Market Opening - An Overview
Nifty futures on the Singapore Exchange were trading 0.41% higher at 18,640, signalling that Dalal Street was headed for positive opening on Friday.
Asian shares were trading higher, led by gains in technology stocks and progress on the bill to raise US debt ceiling. The Nikkei 225 index rose 0.71% and the Topix jumped 1.02%. The Hang Seng surged 3.07% and the CSI 300 index gained 0.92%
Indian rupee strengthened by 31 paise to close at Rs 82.41 against the US dollar on Thursday.
On the economic front, the Manufacturing Purchasing Managers' Index, compiled by S&P Global, rose to 58.7 in May from 57.2 April. It remained above the 50-mark separating growth from contraction for a 23rd consecutive month.
Separately, the goods and services tax collections stayed above the Rs 1.5 lakh crore mark in May. The gross GST collections in May for transactions in April stood at Rs 1,57,090 crore, an increase of 12% over a year earlier, according to data released by the Ministry of Finance on Thursday.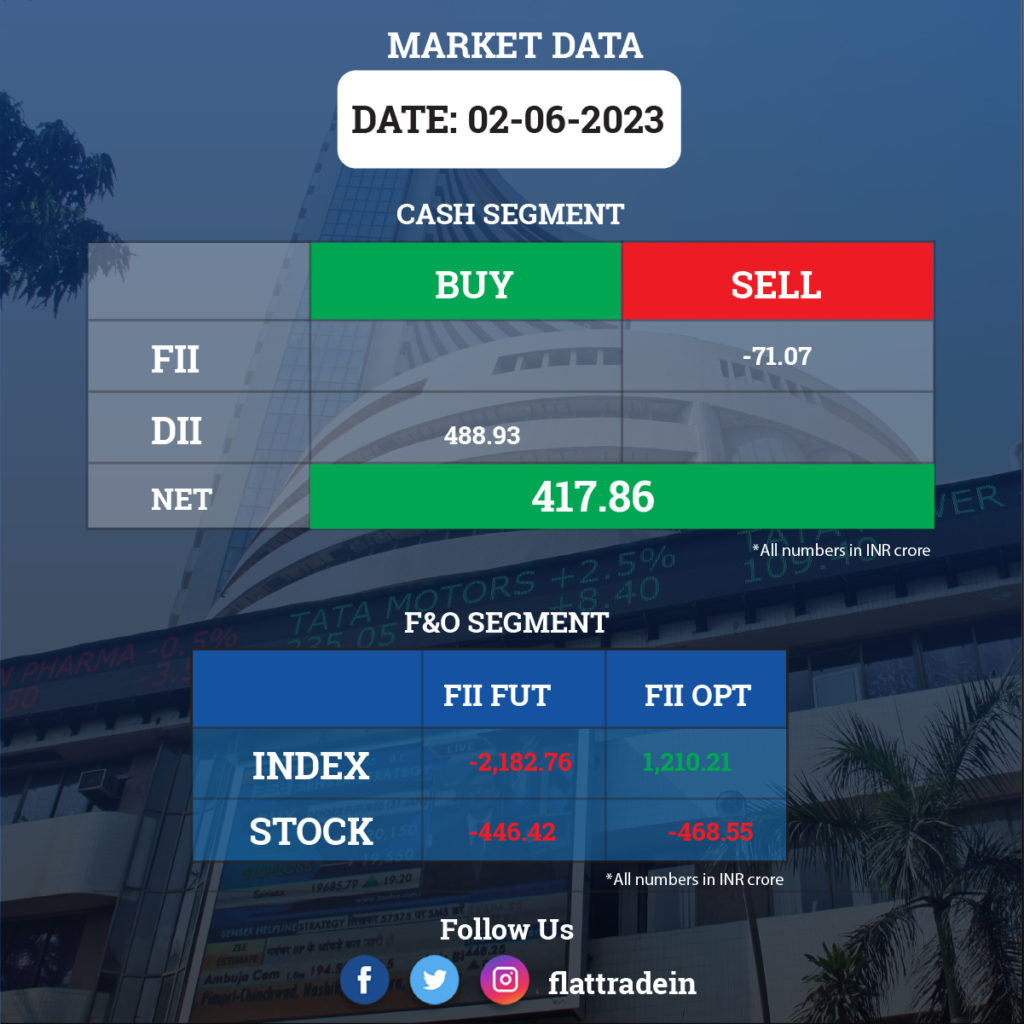 Coal India: The government has decided to exercise the green shoe option to the extent of up to 9.24 crore shares or 1.5% stake, in addition to the base issue size of 9.24 crore shares. Accordingly, the total offer size will be 18.48 crore shares, of which 1.84 crore shares would be reserved for allocation to retail investors, as part of the offer on June 2. On Thursday, the offer for sale issue by the coal mining company has been subscribed 3.457 times the base size. The offer size for non-retail investors is 8.31 crore shares and for retail investors 92.44 lakh shares are in the base issue.
Aditya Birla Capital (ABCL): The financial services company said the board has approved preferential issuance of Rs 1,250 crore to its promoter and promoter group entity, out of the total approved equity fundraising of up to Rs 3,000 crore. The preferential issuance will be undertaken at a price of Rs 165.1 per share. The company will issue shares worth Rs 1,000 crore to Grasim Industries (promoter), and Rs 250 crore to Surya Kiran Investments Pte Ltd (promoter group entity).
Hero MotoCorp: The two-wheeler maker registered 7% year-on-year growth in sales to 519,474 units during May 2023. The company expects the upside trend in sales to continue in the coming months owing to customer sentiments uptick, normal monsoon, and new launches. In May 2022, the total sales stood at 486,704 units. As per its regulatory filing, of the total sales in May 2023, it sold 489,336 motorcycles and 30,138 scooters as against 452,246 motorcycles and 34,458 scooters sold in May 2022. Domestic sales stood at 508,309 units in May 2023, up from sales of 466,466 units in May last year. Meanwhile, exports declined to 11,165 units in May 2023 versus 20,238 units in May 2022.
Paras Defence and Space Technologies: The company has entered into a joint venture agreement with Israel-based CONTROP Precision Technologies. Both will undertake the business of manufacturing, implementation/installation, integrated logistics support, after sales support, training etc., in the electro-optic (EO)/infra-red (IR) field in accordance with the Government of India's Make in India initiative. Paras will hold a 30 percent stake in the joint venture and the rest 70 percent is held by CONTROP.
Adani Enterprises: The company will be moved out of the short-term additional surveillance framework from June 2, according to a circular by the stock exchanges. Separately, the company's subsidiary — Adani Road Transport — has terminated share purchase agreement with MAIF for acquisition of 100% stake in Swarna Tollway, and 56.8% stake in Gujarat Road and Infrastructure Company. Adani Road Transport had signed share purchase agreement with MAIF Investments India PTE Limited and MAIF Investments India 3 PTE in August 2022.
Tata Motors: The Tata Group company sold 74,973 units of commercial and passenger vehicles in May 2023, falling 1.6 percent from 76,210 units in May 2022. Domestic sales dropped 2 percent YoY to 73,448 units, but exports grew by 4.8 percent to 1,525 units in the same period.
TVS Motor Company: The two-and-three-wheeler maker registered a sales growth of 9 percent YoY, increasing from 3.03 lakh units in May 2022 to 3.3 lakh units in May 2023, beating analysts' estimates. Domestic sales grew by 32 percent YoY to 2.52 lakh units, but exports fell 30.5 percent to 76,607 units. TVS iQube Electric recorded sales of 17,953 units in May 2023, increasing significantly from 2,637 units in May 2022.
NHPC: The state-owned hydropower development organization has entered into a Memorandum of Understanding (MoU) with Vidhyut Utpadan Company (VUCL), Nepal for joint development of the Phukot Karnali HE Project (480 MW). This is a run-of-the-river hydropower project in the Kalikot district of Karnali Province, Nepal.
Eicher Motors: The company announced the sale of 77,461 units of Royal Enfield in May 2023, increasing 22 percent over 63,643 units sold in the same month last year, beating analysts' estimates, driven by domestic business. Exports fell 34 percent YoY to 6,666 units in May 2023.
Info Edge: The company's subsidiary AIPL has given out a loan of Rs 288 crore to a broker network company 4B Networks. The loan is currently impaired and AIPL has initiated a forensic audit into the affairs of 4B Networks.
AstraZeneca Pharma India: The company has received permission from Central Drugs Standard Control Organisation to import, sell and distribute Tremelimumab (Imjudo) concentrate, used in the treatment of patients with liver disease unresectable hepatocellular carcinoma.
SJVN: The company signed a project development agreement of 669 MW Lower Arun Hydro Electric Project in Nepal. The company is also developing 217 km long associated transmission network for power evacuation and export to India.
NTPC: NTPC Green Energy, a wholly owned subsidiary of the company, signed a deal with Uttar Pradesh Rajya Vidyut Utpadan Nigam to develop renewable energy parks and projects in the state.
MOIL: The company recorded 43% growth year-on-year in manganese ore production during May at 1.53 lakh tonnes and 72% rise on year in sales at 1.53 lakh tonnes
GAIL (India): The company has invested in JBF Petrochemicals Rs 2,101 crore, including equity worth Rs 625 crore and debt worth Rs 1,476 crore, under the resolution plan for the latter. With this, JBF Petrochemicals has become a wholly owned subsidiary of GAIL.
Aster DM Healthcare: The entered hospital operation and management agreement with 130-bed Padmavathy Medical Foundation, based in Kollam, Kerala.
Central Bank of India: The bank entered a strategic co-lending partnership with India Shelter Finance Corporation Ltd. to offer MSME loans.
Prism Johnson: Of the proposed investment to acquire 45% stake in Renew Green (MPR Two), the company has acquired 72.76 lakh shares for Rs 7.28 crore. The remaining amount would be invested in one or more tranches by June 2024.
Can Fin Homes: Deputy Managing Director Amitabh Chatterjee, who was deputed from Canara Bank, resigned on June 01, 2023, due to his repatriation and transfer back to Canara Bank.
India Infrastructure Trust: The company appointed Pooja Aggarwal as CEO and Darshan Vora as CFO, effective June 1.
Affle India: The technology company with offering consumer intelligence platform said its wholly owned Singapore subsidiary Affle International Pte Ltd (AINT) has completed 100% acquisition of YouAppi Inc.