Sensex, Nifty ended lower due to selling pressure in the second half of the session. The Sensex closed 0.31% lower and the broader Nifty 50 index lost 0.25%.
Broader markets held onto gains on Thursday. The Nifty Midcap 100 index rose 0.15% and the BSE Smallcap index jumped 0.61%.
Top losers were Bank [-0.77%], Private Bank [-0.71%], Financial Services [-0.63%], Energy [-0.21%], and Oil & Gas [-0.13%]. Top gainers Realty [1.09%], Pharma [1.06%], Media [0.71%], PSU Bank [0.59%], and IT [0.43%].
Indian rupee strengthened by 31 paise to close at Rs 82.41 against the US dollar on Thursday.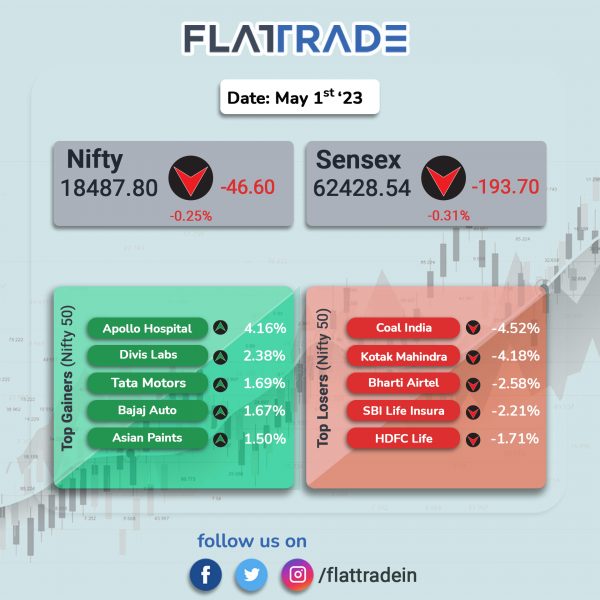 Reliance Industries (RIL): S&P Global Ratings maintained a stable outlook with a 'BBB+' rating on the company. The Company's operating performance is likely to remain resilient over the next two years, according S&P Global Ratings. Reliance's growing presence in the digital and retail segments will temper softer earnings in the energy business, it noted. "We believe RIL's expansion plans for the period are manageable. Capex will remain elevated, but lower than the levels of fiscal 2023. We believe the company's leverage will remain at a level commensurate with the current rating," the report said.
Tata Motors: The company has announced the opening of tender to buyback its external commercial borrowing bonds. The auto maker said that it had issued external commercial borrowing bonds of $250,000,000 5.75% senior notes 2024 (ECB bonds) on 30 October 2014, which are listed on the Singapore Exchange Securities Trading Limited. The company has commenced a tender offer inviting the holders of the ECB bonds to offer to sell for cash to the company the ECB bonds held by such bond holders, subject to the terms and conditions set out in the tender offer memorandum dated 31 May 2023, issued by the company, its regulatory filing said.
Maruti Suzuki India: India's largest passenger vehicle manufacturer announced that its total sales for the month of May 2023 aggregated to 178,083 units, up 10.3% from 161,413 units sold in the same period last year. The sales of passenger vehicles increased 15.45% to 143,708 units, while sales of light commercial vehicles slipped 18.09% to 2,888 units in May 2023 over May 2022. While the company's total domestic sales rose by 12.9% to 151,606 units, exports declined by 2.63% to 26,477 units in May 2023 over May 2022.
Mphasis: The IT services company has launched 'Mphasis.ai' business unit to help enterprises leverage the power of Generative AI to drive business outcomes and efficiency. Enterprise clients will have access to an array of patented AI assets, over 250 models available on Hyperscaler marketplaces, and frameworks created at Mphasis Next Labs (an in-house research and innovation lab) that can be seamlessly integrated into existing systems and processes, the company said in a press release.
Mahindra & Mahindra (M&M): The company announced that its overall auto sales for the month of May 2023 stood at 61,415 vehicles, up by 14% from 53,726 sold in same period last year. In the Utility Vehicles segment, Mahindra sold 32,883 vehicles, up 23% YoY in May 2023. The Passenger Vehicles segment sales stood at 32,886 vehicles, up 22% YoY in May 2023. Exports for the month were at 2,616 vehicles, up 29% YoY.
Eicher Motors: The automaker announced that its unlisted subsidiary, VE Commercial Vehicles (VECV) had reported 11.6% increase in commercial vehicles (CV) sales at 6,289 units in May 2023 over May 2022. The total domestic sales of Eicher trucks and buses rose 15.8% to 5,826 units, while total exports declined 46.9% to 250 units in May 2023 over May 2022. Total sales of Volvo trucks and buses surged 60.2% to 213 units in May 2023 as compared with 133 units sold in May 2022.
NMDC: The state-owned miner's iron ore production jumped 15.94% to 3.71 million tonnes (MT) in May 2023 as against 3.20 MT in May 2022. Iron ore sales in the month of May 2023 stood at 3.62 MT, registering the growth of 23.02% as compared with 2.65 MT recorded in May 2022. Sequentially, the PSU minor's iron ore production increased by 5.7% and iron ore sales increased by 5.54% in May 2023 over April 2023. NMDC produces about 35 million tonnes of iron ore from 3 fully mechanized mines, two located in Chhattisgarh and one in Karnataka.
Bajaj Auto: The company said that its total wholesale sales rose 29% YoY to 3.55 lakh units in May 2023. Two-wheeler sales grew 23% YoY to 3.08 lakh units in May 2023. Commercial vehicle sales jumped 80% YoY to 47,452 units in the reported month.
UCO Bank: The public sector lender said the Indian Government has appointed Ashwani Kumar as MD & CEO for a period of three years. The appointment is effective from the date of the assumption of office, 1 June 2023. Ashwani Kumar assumed office of MD & CEO of UCO Bank replacing Soma Sankara Prasad who demitted the office on 31 May 2023. Kumar is a chartered accountant, post graduate in commerce and also a certified member of Indian Institute of Banking and Finance. He has more than two decades of rich experience in banking.
NCC: The Hyderabad-based construction company has announced that it had secured new orders worth Rs 2088 crore in May 2023. Out of the total orders, Rs 1668 crore were awarded to the Building Division, while Rs 420 crore were awarded to the Water Division.
Steel Strips Wheels: The company said that it had achieved a net turnover of Rs 357.27 crore in May 2023 as against Rs 325.26 crore in May 2022, registering a growth of 9.84% YoY. During the period under review, 2- and 3- wheelers registered a de-growth of 19% YoY. Further, tractor segment recorded negative growth of 19% as compared with the same period last year and Passenger Car segment posted negative growth of 25% YoY. Steel Strips Wheels (SSWL) is engaged in the manufacturing of steel wheel rims catering to different segments of automobile industry.
VST Tillers Tractors: The company said its total sales increased 3.53% to 3,756 units in May 2023 from 3,628 units sold in May 2022. The company's power tillers sales rose 9.28% to 3,319 units in May 2023 from 3,037 units in May 2022. Meanwhile, total tractor sales slipped 26.06% to 437 units in May 2023 as against 591 units sold in May 2022.
Venus Remedies: The company announced the receipt of a marketing authorisation from the largest market in the Gulf Cooperation Council (GCE) region for Docetaxel, a widely used chemotherapy drug. The development comes three months after the company received good manufacturing practices (GNP) certification from the Saudi Food and Drug Authority (SFDA) for all its production facilities at its unit in Baddi, Himachal Pradesh. The $102-billion global Docetaxel market is projected to grow to $184 billion by year 2030 at a CAGR of 10.22%.
Century Textiles & Industries: The company said that the finance committee of the board has approved the allotment of 40,000 debentures with a face value of Rs 1 lakh each, aggregating to Rs 400 crore, on private placement basis. The unsecured, listed, rated, redeemable and non-convertible debentures have an annual coupon rate of 8.10%. The tenure of the said instrument is 2 years 10 months 25 days.
Caplin Point Laboratories: The US Food and Drug Administration (USFDA) has concluded the GMP and PAI inspection of wholly owned subsidiary, Caplin Steriles in its injectible site at Gummidipoondi, Tamil Nadu. The USFDA conducted the inspection during 22 May to 31 May 2023 and issued four observations. The company stated that these observations are procedural in nature and the corrective and preventive actions for these observations will be presented to the USFDA within the stipulated period.
Escorts Kubota: The tractor maker said that its Agri Machinery business had sold 9,167 tractors in May 2023, a growth of 8.9% as against 8,421 tractors sold in May 2022. Domestic tractor sales during the month jumped 13.5% to 8,704 units from 7,667 units sold in May 2022. "Overall, the macroeconomic factors and farmer sentiments remain positive, resulting in a positive sales trend across most geographies. Going forward, we expect the current momentum to continue in the near term led by normal rainfall forecast, adequate reservoir levels, better liquidity and consumer credit availability," Escorts Kubota said in a statement.
Ugro Capital: The investment and borrowing committee of Ugro Capital's board approved issuance of non-convertible debentures (NCDs) aggregating up to Rs 295 crore through private placement basis. The company will issue of up to 2,500 senior, secured, rated, listed, redeemable, transferable NCDs having face value of Rs 1 lakh each aggregating up to Rs 25 crore in dematerialised form. The tentative date of allotment is 6 June 2023. The instruments have tenure of 18 months and interest rate of 10.25% per annum. The company said that these debentures are proposed to be listed on Bombay Stock Exchange (BSE). Further, the company's board approved issuance of up to 27,000 NCDs having face value of Rs 1 lakh each aggregating up to Rs 270 crore in dematerialised form. The instruments have tenure of 4 years and interest rate at 10.58% per annum.