Dalal Street ended lower on negative global cues as investors feared that the central banks would continue with their hawkish stance to bring down inflation. The Sensex fell 0.33% and the Nifty dropped 0.31%.
Broader markets mirrored headline indices. The Nifty Midcap 100 index lost 0.46% and the BSE Smallcap index shed 0.32%.
Top losers among Nifty sectoral indices were IT [-1.45%], Media [-1.02%], Metal [-0.75%], Pharma [-0.75%] and Realty [-0.68%]. Top gainers were PSU Bank [1.26%], Energy [0.33%], FMCG [0.30%] and Oil & Gas [0.22%].
Indian rupee fell 82 paise to 82.62 against the US dollar on Tuesday.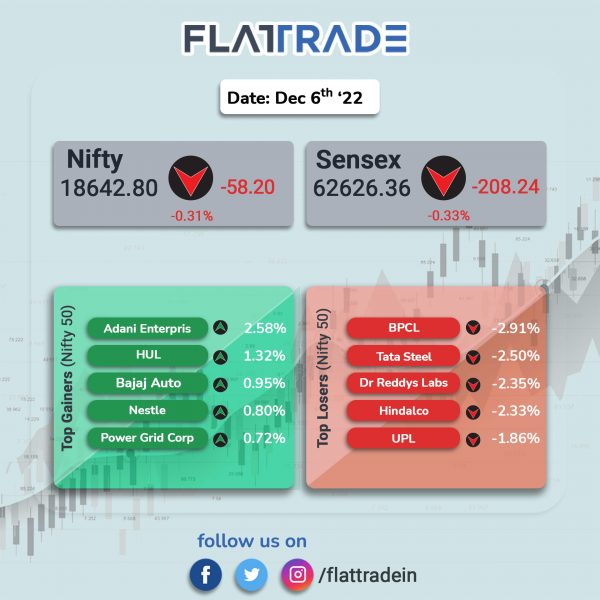 Maruti Suzuki India (MSI): The automaker will recall 9,125 vehicles manufactured between November 2 and 28, 2022, due to a suspected defect in a seat belt component. The affected models are Ciaz, Brezza, Ertiga, XL6 and Grand Vitara. The company said inspection and replacement of the faulty part will be free of cost.
Westlife Foodworld: The operators of McDonald's restaurants said it is planning for an almost three-fold jump in sales up to Rs 4,500 crore in the next five years by 2027 on the back of network expansion omnichannel approach, According to PTI news report. The company plans to add 300 McDonald's restaurants in the next five years, in which 60% of the new stores are likely to be in the southern region and the rest in the western zone, said the company in its "Vision 2027". The company has already commenced the work on the next 200 stores. It operated 337 McDonald's restaurants as of end of September 2022.
Bharat Forge, Ramkrishna Forgings and GNA Axles: Shares of the companies declined to Monday's clsoe as Class 8 truck orders in North America fell for the second straight month in November. Class 8 truck orders are an important indicator of forging companies' business activity. Class 8 truck orders stood at 34,300 in November, down from 42,500 in October and 56,000 in September. North America accounts for almost 40% of Bharat Forge's total revenue., while it 45% of GNA Axles' export revenue and 40% of RK Forgings.
PTC Industries: The company said that it has entered into a contract for critical components for Defence Research and Development Organisation (DRDO) – Gas Turbine Research Establishment (GTRE)'s Combat Aircraft Engine development program. Sachin Agarwal, CMD of PTC Industries, said that its capabilities will be matched with a strong foundation for the development of more innovative, complex and reliable components for next-generation aero-engines.
Bajaj Consumer Care: The company announced that they are considering a proposal for buyback of fully paid-up equity shares and its board will meet on December 9 to consider the proposal.
Vinati Organics: The company, in an exchange filing, said that it has subscribed to the additional 13,71,400 fully paid-up equity shares of face value of Rs. 10/- each at par, amounting to Rs. 1,37,14,000 by way of subscription towards the rights issue of Veeral Organics, a wholly-owned subsidiary.
Ratnamani Metals & Tubes: The company has secured domestic orders aggregating to Rs 233.26 crore and export orders totalling up to Rs 29.26 crore. The company provides critical tubing and piping solutions to different industries.
Gravita India: The company said its step down subsidiary, Gravita Togo SAU, has started aluminium recycling plant in West Africa. Gravita Togo SAU has started commercial production of aluminium cast-alloys from a new recycling plant having an annual capacity of around 4,000 MTPA in phase I. The company is expecting an additional revenue of approximately Rs 60 crore per annum with a gross margins of approx 26% from the new capacity.
Force Motors: The company registered 110.2% jump in domestic sales to 1,623 units in November 2022 from 772 units sold in the year-ago period. Export sales stood at 329 units in November 2022, down 9.12% YoY. The company's production in November 2022 was 2,073 units, up by 82.64% from 1,135 units produced in November 2021.
Karur Vysya Bank: The private lender announced an increase in marginal cost of funds based lending rate (MCLR) by 25 basis points across different tenors, effective from December 7, 2022. The overnight MCLR increased from 8.05% to 8.30%. The MCLR for one month rose from 8.20% to 8.45%. The three month MCLR was raised from 8.35% to 8.60%. The six month MCLR rate increased from 8.70% to 8.95%. The one year MCLR rate was raised from 8.80% to 9.05%.
Dhunseri Tea & Industries: The company said that it has entered into an MoU with Apeejay Tea for acquisition of Budlabeta & Hapjan tea estate in Assam for 109 crore. The transaction is expected to be competed by January 31, 2023. With this acquisition, the company plans to enhance production, turnover and profitability. Budlabeta tea estate and Hapjan tea estate units of Apeejay Tea are located in Tinsukia district in the state of Assam and has area spread over 1,491 hectares and 1,485 hectares, respectively.
Sterlite Technologies: The company announced that its board has approved the appointment of Tushar Shroff, as the chief financial officer (CFO) and key managerial personnel of the company with effect from December 6, 2022. Earlier, Shroff has worked for global and Indian multinational organisations such as ABB, ELSTER Metering, Piramal Healthcare, SCHOTT Glass, Zydus Cadila, and Intas Pharmaceuticals.
Dish TV India: The company announced the resignation of Executive Director Rajeev Kumar Dalmia from the Board of Directors of the company and the committee. Subsequently, the board has appointed three independent directors of the company with effect from December 6, 2022. The appointment of Sunil Kumar Gupta, Madan Mohanlal Verma and Gaurav Gupta shall be placed before the shareholders for their approval in terms of extant provisions.