Market Opening - An Overview
Nifty futures on the Singapore Exchange were trading 0.54 per cent lower at 18,709, signalling that Dalal Street was headed for a negative start on Tuesday.
Most Asian shares were trading higher with the Nikkei 225 index gaining 0.29% and the Topix rising 0.14%. Meanwhile, China's CSI 300 index rose 0.69% and the Hang Seng index fell 0.58%.
Indian rupee fell 47 paise to 81.79 against the US dollar on Monday.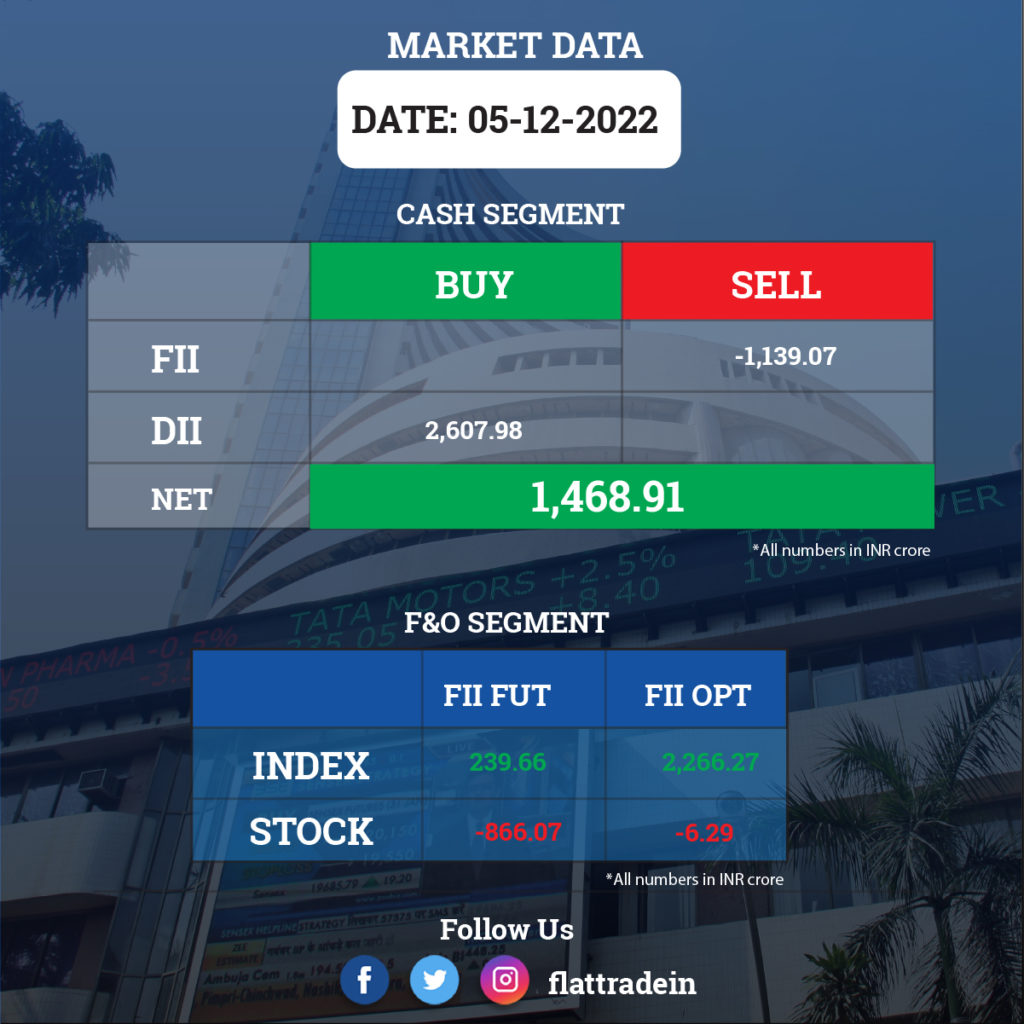 HDFC: Life Insurance Corporation of India bought additional 2.14 lakh shares (0.012 per cent) stake in HDFC via open market transactions on December 2. With this, LIC's shareholding in HDFC increased to 5.003 per cent, from 4.991 per cent earlier.
TVS Motor Company: A promoter entity of the company offloaded 25.69 lakh shares of the company for Rs 262 crore through an open market transaction. According to the bulk deal data available with the BSE, Srinivasan Trust sold 25,69,726 shares, amounting to 0.54 per cent stake in the company. The shares were sold at an average price of Rs 1,020.03 apiece.
JSW Energy: The company said that its arm, JSW ReNew Energy, has commissioned 27 MW wind energy generation capacity at Tuticorin in Tamil Nadu as part of the first phase of its 450 MW wind project. JSW Renew Energy Two Ltd, a step-down subsidiary of JSW Energy, has started phase-wise commissioning of 450 MW ISTS-connected wind power project awarded under SECI (Solar Energy Corporation of India) tranche X at Tuticorin in Tamil Nadu. The project has the power purchase agreement with the SECI for a period of 25 years. In addition to this project, the company is also constructing 1.8 GW of greenfield renewable energy capacity in pursuit of reaching 10 GW capacity well ahead of its FY25 timelines, and 20 GW capacity by FY30.
IRB Infrastructure Developers: The company and its InvIT subsidiary IRB Infrastructure Trust, have collectively reported 39% increase in the toll collection in November 2022 on year-on-year basis, across all projects. The company reported toll collection in November is Rs 365.95 crore, as against Rs 262.81 crore in November 2021.
Tata Motors: The automaker is planning to increase passenger vehicle prices from next month in order to make its model range compliant with stricter emission norms which will kick in from April 1, 2023. The price revision would also offset the impact of higher commodity prices.
Vodafone Idea: Mobile tower company American Tower Corporation (ATC) expressed uncertainty around Vodafone Idea's intent to clear its dues by January. Last month, shareholders of debt-ridden Vodafone Idea have approved issuing shares worth Rs 1,600 crore to ATC Telecom Infrastructure – Indian arm of ATC.
Rainbow Children's Medicare: British International Investment offloaded its entire 14.45 per cent stake or 1,46,66,112 shares in multi-speciality pediatric hospital chain at an average price of Rs 735 apiece for an estimated Rs 1,078.48 crore through open market transactions, according to the bulk deal data available with NSE.
Natco Pharma: The drug maker said it has received a favourable verdict from Delhi High Court in a patent infringement case. A double bench of the High Court of Delhi has dismissed an appeal filed by FMC Corporation, FMC Singapore and FMC India. The Delhi High court upheld the judgement of single judge, saying the Natco Chlorantraniliprole (CTPR) process does not infringe FMC's Indian patent 298645.
Kalpataru Power Transmission: The utility player said its board of directors will be holding a meeting to consider fund raising via NCDs on private placement basis on December 8.
New Delhi Television (NDTV): Adani Group has now become the largest shareholder in NDTV with total stake at 37.44 per cent, ahead of the founder-promoters Radhika and Prannoy Roy, who together hold 32.26 per cent in the company. The Adani group firm acquired nearly 53.27 lakh share shares of NDTV from the open market at a price band of 294.
Ahluwalia Contracts (India): The construction company has secured an order for construction of 5,000 seating capacity public auditorium at Guwahati from PWD, Dispur, Guwahati (Assam). The contract is worth Rs 174.88 crore, taking order inflow for FY23 to Rs 3,962.24 crore year-to-date.
Bajaj Consumer Care: The FMCG company said its board of directors will consider a proposal for buyback of equity shares of the company on December 9.
Dhunseri Tea Industries: The company has entered into Memorandum of Understanding with Apeejay Tea for acquisition of two tea estates in Assam for Rs 109 crore.
DreamFolks Services: The largest airport service aggregator signed strategic partnership with Vidsur Golf to offer customers access to Golf courses across India & Asia Pacific.
Bajaj Consumer Care: The company said its board of directors will consider a proposal for buyback of equity shares of the company on December 9.