Benchmark stock indices ended nearly flat as losses in IT and energy stocks offset gains in metal, banks and realty stocks. The Sensex slipped 0.05% and the Nifty 50 index inched up 0.03%.
However, broader markets performed better than headline indices. The Nifty Midcap 100 index was up 0.25% and the BSE Smallcap index ended 0.25% higher.
Top losers among Nifty sectoral indices were IT [-0.52%], Oil & Gas [-0.36%], Energy [-0.36%], Auto [-0.30%] and Pharma [-0.26%]. Top gainers were Metal [1.87%], PSU Bank [1.2%], Realty [0.69%], Private Bank [0.60%] and Bank [0.53%].
Indian rupee fell 47 paise to 81.79 against the US dollar on Monday.
India's Services PMI remained strong in November as it stood at 56.4 in November 2022, compared with 55.1 in October 2022. Services business activity and sales accelerated, while input costs rose.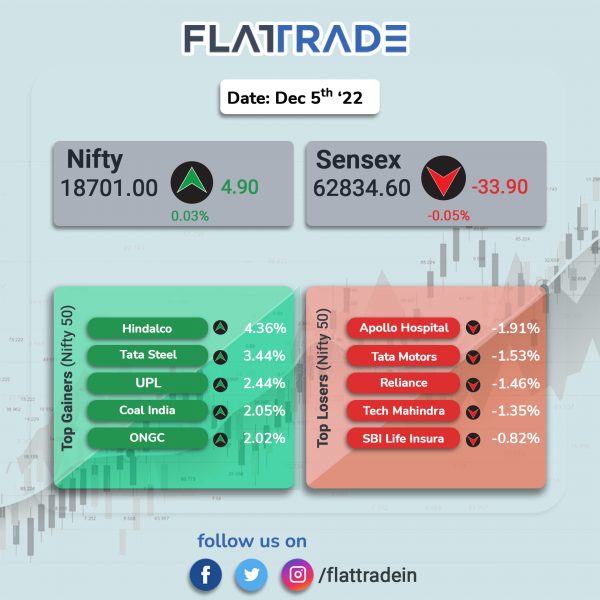 State Bank of India (SBI): The lender said it has crossed Rs 5 lakh crore mark in personal banking advances. The bank added Rs 1 lakh crore to the portfolio in 12 months. Personal banking advances include unsecured personal loans, auto loans, pension loans, education loans, gold loans, etc.
LTIMindtree: The company formed after merging LTI Infotech and Mindtree traded on the exchanges for the first time on Monday after the share swap. The shares of the merged entity opened 18 rupees higher on Monday at Rs 5,086.8. LTIMindtree has become India's fifth largest IT services company by market capitalisation. While the erstwhile, Mindtree stock has been delisted from stock exchanges.
A Mindtree shareholder will get 73 fully paid-up shares of Re 1 each of LTIMindtree for every 100 shares of Rs 10 each of Mindtree. This is subject to the shareholder having Mindtree shares in the demat account till November 24. If Mindtree shareholder is holding less than 100 shares, then, for every 10 shares of Mindtree, the shareholder will be allotted 7.3 LTIMindtree shares.
Adani Ports and Special Economic Zone (APSEZ): The company said that it has handled a cargo volume of approximately 25.3 million metric tonnes (MMT) in November 2022, registering a growth of 2.26% from 24.74 MMT recorded in November 2021. The rise in total cargo volume factors year on year (YoY) growth of 6% in container volumes and 2% in dry bulk cargo. During April-November 2022, APSEZ registered approximately 228 MMT of cargo volumes, implying a 9% YoY growth.
ICICI Lombard General Insurance Company: The company said that it has entered into a bancassurance tie-up with AU Small Finance Bank. The partnership will provide the AU Bank's diverse customers access to the insurer's portfolio and enhance penetration across India.
Larsen & Toubro (L&T): The EPC major announced that its construction arm has secured a 'large' order from the National High-Speed Rail Corporation (NHSRCL) in the Bullet Train Project. The value of the large project is Rs 2,500 crore to Rs 5,000 crore, according to L&T's classification. Under the contract, L&T will construct the Sabarmati Depot (MAHSR – D-2) in the state of Gujarat for the Mumbai – Ahmedabad High Speed Rail (MAHSR) project through a consortium led by Sojitz Corporation, Japan.
Bharti Airtel: The telecom and Meta Platforms have announced a collaboration to support the growth of India's digital ecosystem. Airtel and Meta will jointly invest in global connectivity infrastructure and CPaaS based new-age digital solutions to support the emerging requirements of customers and enterprises in India.
Airtel has signed an agreement to help increase operational efficiency of Open RAN and facilitate energy management and automation in radio networks using advanced analytics and AI/ML models.
Infosys: the IT major announced a new proximity center in Sweden. With this investment, Infosys aims to enhance its localization strategy in the Nordics by bringing next-generation digital offerings to its clients in the region. The new center represents another step to strengthening the strategic presence in Gothenburg, a major city on the west coast of Sweden and an emerging automotive, digital tech and green innovation hub in Europe.
Jindal Stainless: The company signed a contract with ReNew Power to develop a utilityscale captive renewable energy project for the supply of power to its facility in Jajpur, Odisha. The project will generate 700 million units per year through a mix of solar and wind technologies. With this, ReNew Power also brings its Round the Clock (RTC) solution to the B2B space, which it pioneered for Utilities earlier last year.
Lupin: The drug major announced that it has launched Rufinamide tablets USP, 200 mg and 400 mg in the United States. Rufinamide is used with other medications to prevent or control seizures (epilepsy) associated with Lennox-Gastaut syndrome (LGS). Rufinamide tablets (RLD Banzel) had an estimated annual sales of $138 million in the US, according to IQVIA MAT October 2022.
Rajesh Exports: The company said that Prashant Mehta, managing director (MD) of the company has tendered his resignation on December 3. He was also the chairman of risk management committee. Further, the company said that its board of directors have resolved to appoint a new managing director within the mandated period.
Shriram Finance: The new company has been formed after merging Shriram Transport Finance and Shriram City Union Finance. The new company will to have an AUM of Rs 1.71 lakh crore and a networth of Rs 40,900 crore, with over 6.7 million customers. The company will continue to focus on the self-employed and MSMEs.
Meanwhile, Shriram Transport Finance said that S. Lakshmninarayanan, chairman of the company has tendered her resignation on December 4. Further, the NBFC appointed Y. S. Chakravarti as managing director (MD) & chief executive officer (CEO) of the company for a period three years with effect from December 5.
Biocon: The company's subsidiary, Biocon Biologics, announced that Shreehas Tambe, deputy CEO, has been appointed as the managing director and CEO of the company from December 5. Tambe takes over from Dr Arun Chandavarkar, who will continue to serve as a non-executive, non-independent director on the board of Biocon Biologics.
Dabur India: The FMCG company said that Raghav Agrawal will replace Krishan Kumar Chutani as chief executive officer (CEO) of Dabur International, a material subsidiary of the company. Krishan Kumar Chutani tendered his resignation to pursue career outside Dabur. He will continue in his current position till 28 February, 2023 and then Raghav Agrawal shall take over as the CEO of Dabur International.
Angel One: The company said its gross client acquisition slipped by 6.3% on a monthly basis and 28.3% on a yearly basis in November 2022, according to its exchange filing.
Bajaj Hindusthan Sugar: Shares of the company hit an upper circuit at Rs 16.22 after the company clarified that they have paid the entire overdue towards term loan installments till September 2022. The company also settled their term loan interests till November 2022 and optionally convertible debentures coupon, payable for FY22 to all the lenders.
EaseMyTrip: The company and Go First have entered into an exclusive general sales agreement in Saudi Arabia. EaseMyTrip will be an official distributor, promoter, and marketer for passenger tickets in Saudi Arabia. The three-year partnership deal will enable both brands to expand their service range.
BCL Industries: The company said it has bagged orders to supply ethanol to oil marketing companies (OMCs) and Reliance Industries. BCL Industries won a tender to supply 4.9 crore litres of ethanol to OMCs from its manufacturing unit at Bathinda (Punjab) and the order is worth about Rs 285 crore. Additionally, the distillery unit of the company has also bagged an order to supply 1.65 crore litres of ethanol to Reliance Industries with an order value of Rs 107 crore.
Svaksha Distillery, subsidiary of BCL Industries, has been allocated 3.65 crores litres of Ethanol, from its manufacturing unit at Kharagpur (West Bengal) with an order value of around Rs 213 crore, to be supplied to the OMC's. Additionally, the unit has also bagged an order to supply 89 lac litres of Ethanol to Reliance Industries with an order value of Rs 56 crore.
Dilip Buildcon: The company announced that it has executed a contract agreement with the Gujarat Metro Rail Corporation (GMRC) for Phase-1 of Surat Metro Rail proiect in Gujrat. The scope of the project entails construction of 8.702 km elevated viaduct and seven stations from Majura Gate to Saroli Dead End under corridor-2 in connection with Surat Metlo Rail Project Phase – I (Pkg-CS-6). The cost of project is Rs 702.02 crore and the period of completion of the project is 26 months.
SJVN: The company through its wholly owned subsidiary, SJVN Green Energy, secured 200 megawatt (MW) solar power project from Maharashtra State Electricity Distribution Company (MSEDCL). SJVN said that the tentative cost of this project is around Rs 1,200 crore and the project is expected to generate 455.52 million units (MUs) in the 1st year and the cumulative energy generation over a period of 25 years would be about 10,480.82 MUs.