Dalal Street ended in the red after comments by Fed Chair Jerome Powell and US Treasury Secretary Janet Yellen dampened investors risk appetite. The Sensex fell 0.50% and the Nifty dropped 0.44%.
The Fed increased interest rate by 25 basis points and Yellen told the lawmakers that the government wasn't considering a "blanket" deposit insurance to stabilize the banking system.
In broader markets, Nifty Midcap 100 lost 0.41% and the BSE Smallcap shed 0.15%.
Top losers were PSU Bank [-1.74%], Realty [-1.08%], Bank [-0.96%], Private Bank [-0.85%], and IT [-0.77%]. Top gainers were FMCG [0.35%] and Pharma [0.22%].
Indian rupee rose by 40 paise to end 82.26 against the US dollar on Thursday.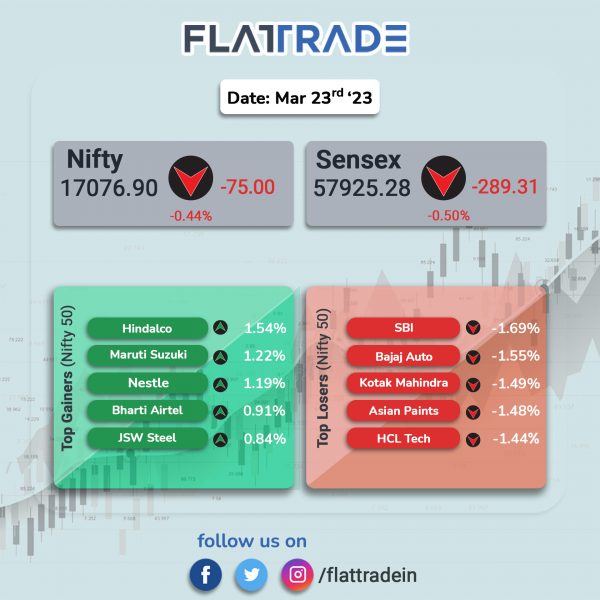 Maruti Suzuki India (MSI): The automaker said that it continues to witness increased cost pressure driven by overall inflation and regulatory requirements and it has planned price hike from April, 2023, which shall vary across models. The company added that it is taking maximum effort to reduce cost and partially offset the increase through a price increase.
Vedanta: The mining giant said that any talks of sale in oil-to-metals conglomerate as "untrue and baseless." The announcement comes after news report said that mining mogul Anil Agarwal is contemplating a stake sale in Vedanta as a last-resort option and is examining the possibility of selling less than 5% of the company.
ABB India: The company and Parason are collaborating to automate and up-scale production of sustainable and compostable packaging solutions. Parson is a manufacturer & supplier of pulp and paper machinery. ABB robots, integrated with Parason's machinery, will help to facilitate the effective manufacturing of agro-waste products and increase equipment effectiveness by 30%. This collaboration aims to support India's ambition to reduce 3.5 million tonnes of plastic waste per year.
Anupam Rasayan: The company has signed Letter of Intent (LoI) worth revenue of $120 Mn (Rs 984 crore) for next six years with one of the leading Japanese Chemical company to supply new age advance intermediate for life science active ingredient. This product will be manufactured in the company's existing as well as upcoming multipurpose manufacturing facilities.
Infosys: The IT major has named D Sundaram as the Lead Independent Director of Infosys with effect from March 23 after Kiran Mazumdar-Shaw, who held the said post since 2018, resigned. Sundaram has been a member of the board of Infosys since 2017.
IndusInd Bank : The lender announced that it is now integrated with the Income Tax Department's recently launched tax payment platform TIN2.0. The bank was appointed as an Agency Bank by the Reserve Bank of India and under this licence, IndusInd Bank customers can now pay their Direct Taxes in a fast, seamless and convenient manner through the Bank's Retail or Corporate Net Banking platform or at any IndusInd Bank branch using Cash, Cheque or Demand Draft.
Kalpataru Power Transmission (KPTL): The civil construction company along with its international subsidiaries has secured new orders aggregating to Rs 2,477 crore. The company has bagged orders worth Rs 1,181 crore in India and overseas markets in the transmission and distribution (T&D) business. It also received EPC projects in the water business for Rs 1,296 crore. With the above order wins, the year-to-date order intake has reached a record level of Rs 25,149 crore.
Chalet Hotels: The hospitality company has executed share purchase agreement to acquire 82.28% stake in Dukes Retreat in Khandala for Rs 81.75 crore and the deal is expected to be completed by end of March 2023. Further, the company will also acquire 100% stake in Sonmil Industries for Rs 74.64 crore. Sonmil is the owner of the land where The Dukes Retreatis situated.
Samvardhana Motherson International: The company has received an intimation that its indirect subsidiary — Shenyang SMP Automotive Component — located at China has been deregistered effective from 20 March 2023. Pursuant to above, Shenyang SMP Automotive Component , China, has ceased to be in existence.
Global Surfaces: Shares of Global Surfaces debuted on the bourses today. On the NSE, the company shares opened Rs 166 apiece as against an issue price of Rs 133-140 per share. The shares hit a high of Rs 172.20 and a low of Rs 156.10. Finally, the shares closed at Rs 171.05 on the NSE.
Sirca Paint: The company's board will consider a bonus share issue on 29 March 2023. In the same meeting, the board will also consider increase in the authorised share capital of the company.
NBCC: The company announced that its wholly owned subsidiary, HSCC has issued the Letter of Award for "Construction of Medical College Jalgaon Chincholi at Jalgaon Maharashtra and their maintenance during defect liability period for five years on Comprehensive Design, Engineering, Procurement and Construction basis. The contract value is Rs 625.20 crore.
Vascon Engineers: The company has received an order from Superintending Engineer, PMGSY Circle representing Uttar Pradesh PWD for the construction of a prison in Amethi. The letter of acceptance encapsulates work worth Rs 158.09 crore inclusive of GST. The work is expected to be completed within 18 months from the date of receipt of LOA.