Market Opening - An Overview
Nifty futures on the Singapore Exchange were trading 0.17% lower at 17,055, indicating that Dalal Street was headed for negative start on Friday.
Asian shares were trading lower on Friday as investors were worried over banking stability and its impact on the economy and global markets. The Nikkei 225 index fell 0.26% and the Topix was down 0.18%. The Hang Seng dropped 0.66% and the CSI 300 index lost 0.43%.
Indian rupee rose by 40 paise to end at 82.26 against the US dollar on Thursday.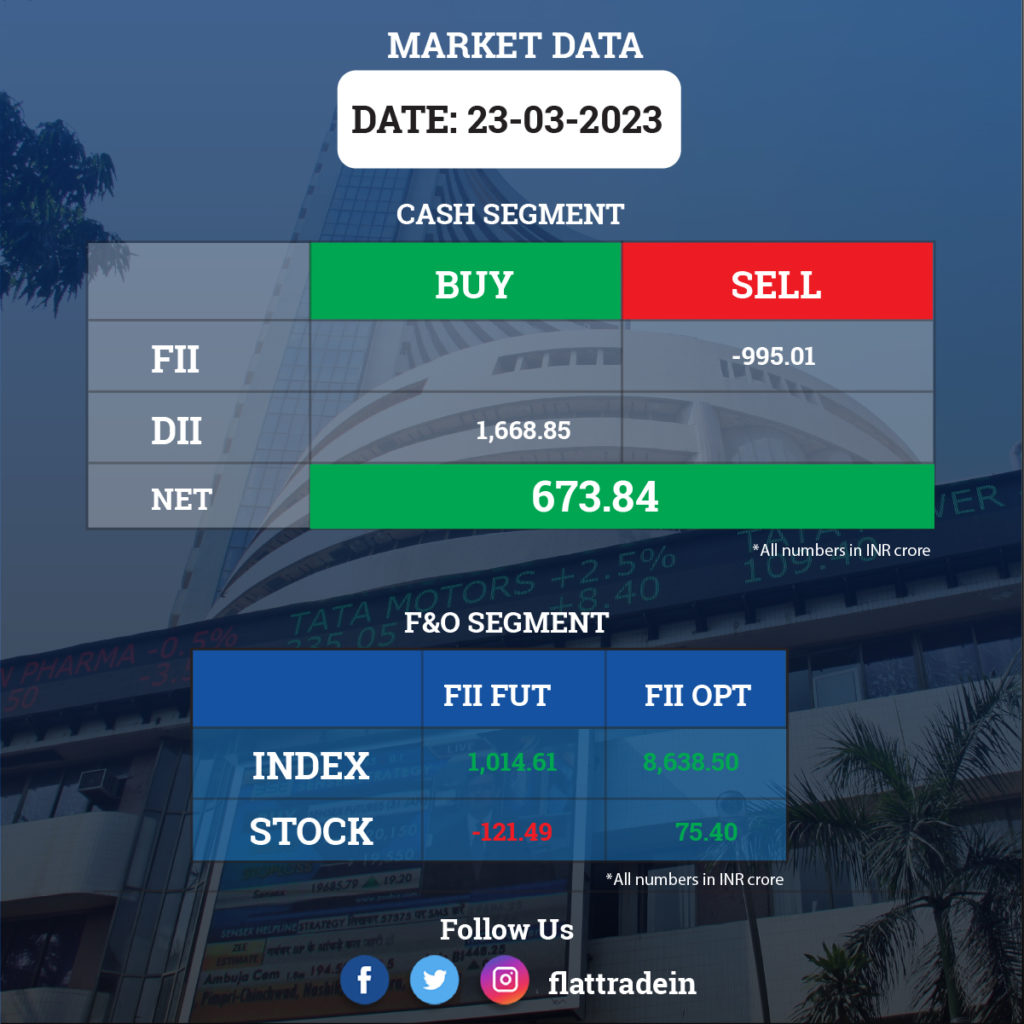 Reliance Industries (RIL): Jio-bp, a joint venture between Reliance Industries and bp, and Piramal Realty, the real estate arm of Piramal Group, have entered a partnership for installation of EV charging stations across Piramal Realty's residential developments. The partnership is to provide world-class EV charging solutions across Piramal's residential projects in Mumbai.
Bharat Electronics (BEL): The Ministry of Defence has signed two contracts worth of Rs 3,800 crore with the company for supply of medium power radar and digital radar warning receiver for Indian Air Force.
Bajaj Hindusthan Sugar: The company said it has acquired two companies — Phenil Sugars Ltd (PSL) and Bajaj Power Ventures Private Ltd (BPVPL) — for Rs 800 crore.
Tata Steel: The company has acquired the balance 1.35 crore equity shares of Tata Steel Advanced Materials, at Rs 12.81 per share, from Tata Steel Downstream Products, for Rs 17.33 crore. After this transaction, Tata Steel Advanced Materials has become a direct wholly owned subsidiary of Tata Steel. Prior to the transaction, Tata Steel directly held 75.94% stake in Tata Steel Advanced Materials and the balance 24.06% stake was held by Tata Steel Downstream Products.
IRCTC: The company has signed an MoU with Uttarakhand Civil Aviation Development Authority (UCADA) for a period of 5 years for providing Helicopter ticket booking service to the pilgrims of Shri Kedarnath Dham on behalf of UCADA.
Lupin: The pharma major has received tentative approval from the United States Food and Drug Administration (US FDA) for its abbreviated new drug application (ANDA), Obeticholic acid tablets. Obeticholic acid tablets are a generic equivalent of Ocaliva tablets Intercept Pharmaceuticals, Inc. Obeticholic acid tablets, which are available in 5 mg and 10 mg strength, had estimated annual sales of $255 million in the US as per IQVIA MAT data of December 2022.
Rail Vikas Nigam (RVNL): Rachana-RVNL joint venture has received LOA for upgradation to six-lane with paved shoulder of Sarkhej-Changodar section of NH-8A for Ahmedabad- Bagodara-Rajkot road on EPC mode in Gujarat (Package-7). The project cost is Rs 252.2 crore. Rachana Construction share is 60% and Rail Vikas Nigam (RVNL) share is 40% in the project.
IDFC: IDFC FHCL, subsidiary of IDFC, has received 37.75 crore equity shares of IDFC FIRST Bank on payment of the application money of Rs 2,196.30 crore to IDFC FIRST Bank. With this investment, IDFC's holding, through IDFC FHCL, in IDFC FIRST Bank will go up to 39.99%. In February 2023, the board of IDFC, and IDFC FHCL had approved subscribing to 37.75 crore shares of IDFC FIRST Bank on a preferential basis at a price of Rs 58.18 per equity share, through subsidiary IDFC FHCL.
Himadri Speciality Chemical: The board has given its approval for the agreement for sale of two windmills of the company at Dhule in Maharashtra. Keeping in view that the expected life of the Windmills will expire soon and accordingly, the company has considered to sell windmills to Cleanwin Energy Nine LLP and Greenwin Energy One LLP. Sale of these windmills will have no material impact on the operations of the company.
Indiabulls Housing Finance: The housing finance company has raised Rs 91.64 crore as its Securities Issuance and Investment Committee had approved the allotment of 9.16 lakh non-convertible debentures of face value of Rs 1,000 each for cash at par on public issue basis.
Campus Activewear: America-based alternative asset management firm, TPG Global, plans to exit the company by selling its entire 7.6% stake through block deals today. TPG will sell 2,32,07,692 shares of the company and has set the floor price at Rs 345 a share. This is at a discount of nearly 7% to the current market price.
Vedanta: The board of directors will meet on March 28 to consider and approve the 5th interim dividend for the current financial year.
LIC: Financial Services Institutions Bureau has recommended Siddhartha Mohanty for the position of chairperson of the life insurer.
Metro Brands: The footwear retailer has decided to demerge its wholly-owned company FILA, as part of its strategy for optimum growth and development of FILA's businesses.
Emami: The board will meet today to consider buy back of shares. The stock has been one of the major laggards in the FMCG space, having lost more than 14% year-to-date.
Glenmark Lifesciences: The stock will trade ex-date for the interim dividend of Rs 21 a share.
Sundaram Clayton: The stock will trade ex-date for the bonus share issue of 1:116.
Aditya Birla Sun Life AMC: The stock will trade ex-dividend for the Rs 5 per share interim dividend announced by the company.
Aether Industries: The company said it has signed an initial pact with the Gujarat government to set up new manufacturing plants at its Panoli site with an investment of around Rs 1,000 crore.
Canara Bank: The lender has completed sale of its 40% stake in Commercial Indo Bank (CIBL) with the State Bank of India for Rs 121.3 crore.
Astec LifeSciences: The production activity at company's unit situated at MIDC Mahad, Birwadi Industrial Area, Raigad – Maharashtra, has resumed operations effective Thursday, March 23.
Nibe: The company has acquired remaining 50% stake in Indigenous Casting Technology on receipt of NOC from MIDC along with its all assets and liabilities.