Benchmark stock indices closed higher as IT, metal and PSU Bank stocks gained amid falling oil prices. The Sensex rose 0.45% and the Nifty gained 0.46%.
In broader markers, Nifty Midcap 100 index rose 0.55% and the BSE Smallcap fell 0.10%.
Top gainers among Nifty sectoral indices were PSU Bank [1.66%], Metal [0.89%], IT [0.81%], Media [0.60%] and FMCG [0.56%]. Top losers were Realty [-1.22%] and Energy [-0.35%].
Indian rupee rose 17 paise to 81.67 against the US dollar on Tuesday. 
WTI Crude prices stood at $80.28 per barrel, while Brent Crude stood at $87.68 per barrel.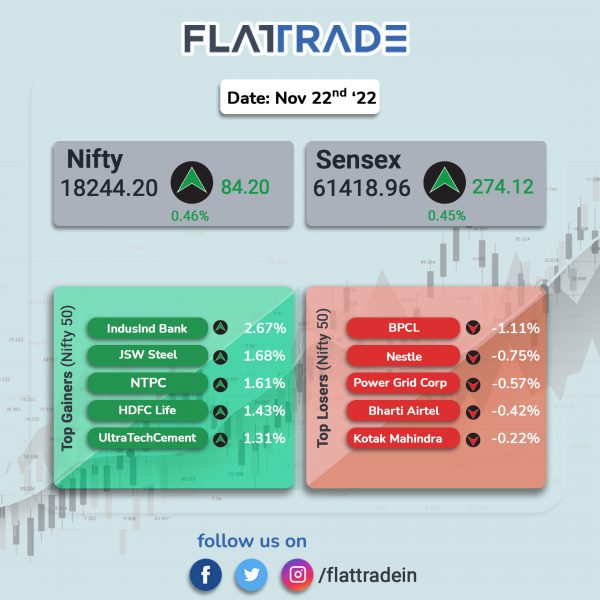 Infosys: Shares of the IT major gained over 1% after the software exporter signed a deal with Envision AESC to develop cloud-based platform to digitise the latter's EV battery manufacturing units. Through this collaboration, Infosys will help develop a cloud-based platform to digitize and automate manual processes at Envision AESC's Electric Vehicle (EV) battery manufacturing plants.
Dr. Reddy's Laboratories: The Indian pharma company along with Celgene, Bristol Myers Squibb and several drug makers were named defendants in a complaint filed in the district of New Jersey in the US, according to its regulatory filing.
The complaint, on behalf of indirect purchasers, states that the drug makers improperly restrained competition and maintained shared monopoly in the sale of Revlimid through respective patent litigation settlements. Meanwhile, Dr. Reddy's Laboratories said that the allegations lack merit and it will vigorously defend the litigation.
Larsen & Toubro (L&T): Shares of the engineering and construction major gained after the conglomerate bought 45 lakh shares (50% stake) held by Chiyoda Corporation in L&T-Chiyoda (LTC) for Rs 75 crore. The acquisition is expected to be completed by December 31. LTC was incorporated in 1994 as a 50-50 joint venture between L&T and Chiyoda Corp .
One 97 Communications (Paytm): The company's share price declined 77.81% from its issue price of Rs 2,105 apiece as its shares tanked to its record low. Shares of Paytm touched a record low of Rs 474.30 piece on the NSE.
The decline comes amid reports that NPCI, which manages UPI, Bharat Bill Pay, RuPay and other digital products, is in talks with the Reserve Bank of India (RBI) on implementing its proposed December 31 deadline for limiting player volume to 30 per cent. After the imposition of the limit, users may not be able to make unlimited payments by UPI apps.
Separately, Macquarie in a recent note said that Paytm could face tough competition from Jio Financial Services.
Easy Trip Planners (EaseMyTrip): Shares of the company rose after it signed an MoU to develop tourism in Assam. Under the agreement, the company will share resources and collaborate to push tourism growth in Assam. EaseMyTrip will provide white label solutions to endorse ATDC properties on its website and mobile application, along with complete booking process and payment gateway.
Steel Strips Wheels: Shares of the company advanced after the company inked an MoU with Israel-based Redler to establish a joint venture to make and sell EV controllers in India. Under the partnership, the company will develop, manufacture and market motion control solutions for two, three and four-wheeled electric vehicles.
UCO Bank: Shares of the state-owned bank surged more than 14% due to heavy trading volumeon Tuesday. The public sector bank said that the Central Government has named Rajendra Kumar Sahoo, who was the chief general manager at Punjab National Bank, as Executive Director of the bank for a period of three years.
Dhunseri Tea & Industries: The company has signed an MoU with Warren Tea to acquire three tea estates in Assam. I acquired Duamara Tea Estate, Tara Tea Estate and Deohall Tea Estate for Rs 32.95 crore, Rs 36.50 crore and Rs 21.35 crore, respectively. With this buyout, the company aims to enhance its production, turnover and profitability through this acquisition.
Aether Industries: The company has signed a long-term agreement with Europe-based Polaroid Group. The deal includes cooperation in the areas of R&D and manufacturing services for Polaroid Film and Polaroid Sciences. The partnership anticipates an overall revenue of approx Rs 121.5 crore over a period of minimum 3 years. Polaroid is the holding company of the global Polaroid group of companies which is known for instant photography products.
Glenmark Pharmaceuticals: The company said it has entered into a settlement agreement with Pfizer regarding a cancer treatment drug. The drug maker and its US-based unit have inked a settlement pact with drug major Pfizer for Axitinib Tablets. Glenmark's product is the generic version of Pfizer's Inlyta tablets, used to treat kidney cancer. According to IQVIATM sales data for the 12-month period ending September 2022, the Inlyta tablets (1 mg and 5 mg) has achieved an annual sales of around $644.5 million.