Major equity indices fell on Friday due to negative global sentiments as investors were worried over the Fed's hawkish monetary policy and possible recession. The Sensex fell 0.75% and the Nifty 50 index was down 0.74%.
In broader markets, Nifty Midcap 100 index dropped 0.76% and the BSE Smallcap index lost 0.73%.
Top losers were IT [-2%], Media [-1.45%], Private Bank [-1.12%], Bank [-0.99%] and Metal [-0.95%]. Nifty Energy [0.04%] and FMCG [0.03%] indices closed nearly flat.
Indian rupee fell 16 paise 82.72 against the US dollar on Friday.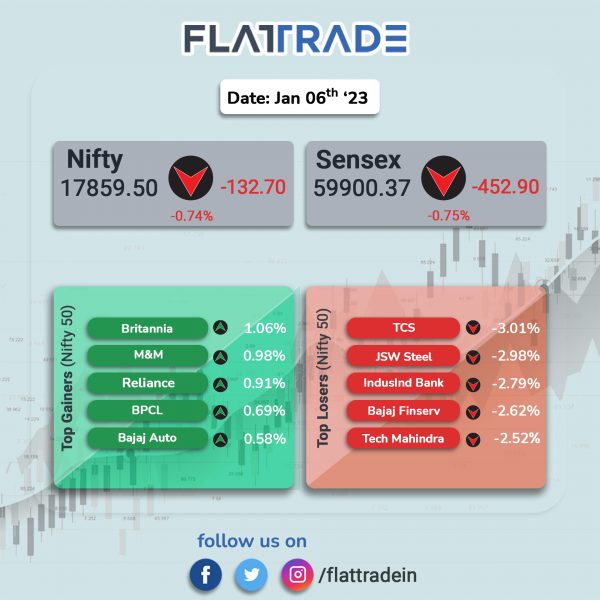 Dabur India: The FMCG major said that its India business is expected to report low- to mid-single digit revenue growth due to challenging macro-economic environment and muted category growths during the quarter. However, the international business is expected to deliver double-digit revenue growth in Q3FY23. Healthcare portfolio returned to positive growth trajectory, still navigating high bases of the pandemic. Food & Beverages (F&B) business continues to trend at robust levels. During the quarter, F&B's growth will see some moderation on account of early onset of the festive season.
Maruti Suzuki India: The automaker has launched Grand Vitara with S-CNG technology. GRand Vitara is powered by the next-gen K-series 1.5-litre, dual jet, dual VVT engine. The SUV is offered with a 5-speed manual gearbox, and delivers mileage of 26.6 km/kg. The SUV develops a peak power output of 64.6kW@5500rpm and max torque is rated at 121.5 Nm@4200rpm in CNG mode.
Macrotech Developers (Lodha): The realty company said that it had achieved pre-sales of Rs 3,035 crore in Q3FY23, a growth of 16.3% YoY. The company's 9MFY23 pre-sales stood at Rs 9,039 crore, up by 62.3% from Rs 5,568 crore recorded in 9MFY22. The company said that it had added 4 new projects having approximately 5 million square feet. The net debt during the period under review reduced by approximately Rs 753 crores to Rs 8,042 crore.
Sobha: The company's total sales value improved by 36% Yoy to Rs 1,424.7 crore in Q3FY23 from Rs 1,047.5 crore recorded in the corresponding quarter last fiscal. The real estate developer further informed that the sales volume in Q3FY23 stood at 1.48 million square feet up by 12% from 1.32 million square feet recorded in Q3FY22. Average price realization increased by 22% to Rs 9,650 per square feet in Q3FY23 from Rs 7,920 per square feet in Q3FY22.
IIFL Finance: The company said that it will raise up to Rs 1000 crore through public issue of secured redeemable non-convertible debentures (NCDs). The NBFC will issue secured redeemable NCDs, aggregating to Rs 100 crore, with a green-shoe option of up to Rs 900 crore, amounting to Rs 1,000 crore. The NCDs offer effective yield of up to 9.00% per annum for tenor of 60 months. The frequency of interest payment for 60 months tenure is available on monthly, annual and cumulative basis, while for 24 months and 36 months it is available on annual and cumulative basis.
Zydus Lifesciences: The company' subsidiary, Zydus Pharmaceuticals (USA) Inc., has launched Topiramate Extended-Release Capsules. The company had earlier received final approval from the United States Food and Drug Administration (USFDA) to market Topiramate Extended-Release Capsules, USP 25 mg, 50 mg, and 100 mg. Zydus is the first company to receive final approval and launch Topiramate Extended-Release Capsules, USP 25 mg, 50 mg, and 100 mg in the United States.
Alembic Pharma: The drug maker has received final approval from the USFDA for its abbreviated new drug application (ANDA), Fesoterodine Fumarate extended-release tablets, 4 mg and 8 mg. The drug is used for the treatment of overactive bladder (OAB) in adults with symptoms of urge urinary incontinence, urgency and frequency. Fesoterodine Fumarate had an estimated market size of $177 million for twelve months ending September 2022 according to IQVIA.
Datamatics Global Services (DGSL): The company said that ICRA has reaffirmed its rating on the debt instruments of the company at "[ICRA] A+ (Stable)/ [ICRA] A1+". The ratings were given on the back of DGSL's revenue growth, healthy cash accruals and strong liquidity profile. Moreover, healthy internal accrual generation has continued to result in minimal reliance on debt, translating into a comfortable capital structure and robust debt protection metrics.
Satin Creditcare Network: The company's board has approved fund raising of Rs 25 crore by issuing non-convertible debentures (NCDs) on private placement basis. The company will issue 2,500 secured, rated, listed, redeemable, transferable, non-convertible debentures, having a face value of Rs 1 lakh each, with an aggregate value of Rs 25 crore on private placement basis. The coupon rate on the NCD is fixed at 12.3% per annum and payable semi-annually until the maturity date. The tenure of the instrument is up to 48 months from January 16, which is the date of allotment.
Bharti Airtel : The telco announced the launch of its cutting edge 5G services in Hissar and Rohtak. Airtel's 5G services are already live in Gurugram and Panipat. It said the company will augment its network in other cities making its services available across the state in due course of time.
Sigachi Industries: The company board announced that its board they will meet on January 10 to consider a proposal for fundraising. The board may consider raising funds by way of issue of equity or convertible warrants on preferential basis to the promoters and non-promoters.
DB Realty: The company said in an exchanage filing that Atul Bhatnagar who was acting as Joint Chief Financial Officer and Key Managerial Personnel of the company has been redesignated as Chief Financial Officer, with effect from today (January 6, 2023).