Benchmark stock indices inched up amid high volatility on Thursday. FMCG, realty, energy and select banking shares rose, but gains were capped by losses in IT and metal stocks. The Sensex rose 0.14% and the Nifty 50 index inched up 0.08%.
In broader markets, the Nifty Midcap 100 index ended 0.09% higher and the BSE Smallcap fell 0.69%.
Top gainers were Media [4.16%], FMCG [1.14%], Realty [1.11%], Energy [1.02%] and Pharma [0.94%]. Top losers were Metal [-2.58%] and IT [-0.69%].
Indian rupee dropped 13 paise to 82.73 against the US dollar on Thursday.
India's overall exports in February 2023 are estimated to be $63.02 Billion, exhibiting a positive growth of 7.81% over the same period last year, according to data released by the Ministry of Commerce and Industry. Overall imports in February 2023 are estimated to be $65.85 Billion, exhibiting a negative growth of (-) 4.38% over the same period last year.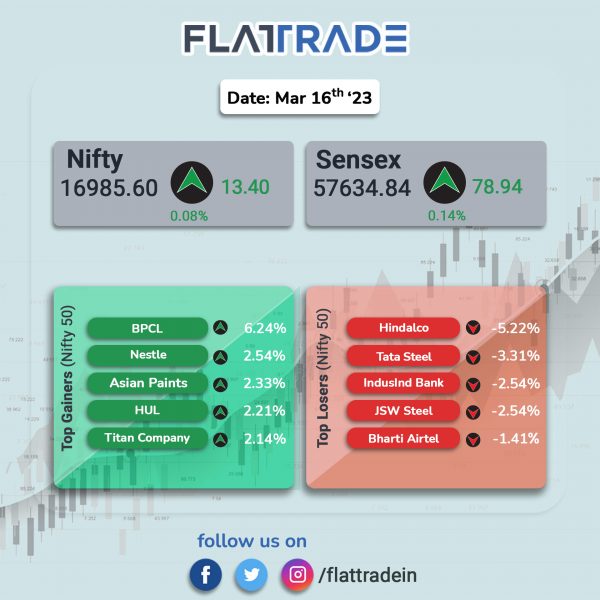 ICICI Prudential Life Insurance Company: Shares of the company soared over 9% in intraday trade after the life insurer announced that Anup Bagchi will replace N. S. Kannan as managing director (MD) and chief executive officer (CEO) effective from 19 June 2023. N. S. Kannan, MD & CEO will superannuate from the services of the company on the completion of tenure of his appointment on 18 June 2023.
DLF: The realty company announced that its latest luxury high-rise residence 'The Arbour' had witnessed pre-formal launch sales worth more than Rs 8,000 crore, in three days. 'The Arbour' is located at DLF Sixty-three on Golf Course Extension in Sector 63, Gurugram.
RateGain Travel Technologies: The company announced its Elite Connectivity Partner status with the Expedia Group. Expedia Group recognizes and rewards a select few connectivity partners who achieved excellent results on various performance metrics, such as maintaining high-quality connections and helping lodging partners grow their business on the Expedia Group marketplace. It also means that RateGain will work directly with Expedia Group to help shape their future products and technology solutions.
Indian Energy Exchange (IEX): The company has announced the closure of buyback of shares with effect from 16 March 2023. Until Wednesday (15 March 2023), the company has bought back a total of 69,76,798 fully paid up equity shares totalling Rs 97.98 crore, which represents 99.99% of the maximum buyback size.
NIBE and Larsen & Toubro (L&T): NIBE has received four purchase orders from Larsen & Toubro (L&T) amounting to Rs 57.33 crore. The order is for manufacturing bridge center module structure and other assemblies and sub-assemblies of modular bridge project. The order is to be executed by March 2024.
Shriram Finance: The NBFC announced that its allotment committee has approved and allotted NCDs under two options, on private placement basis. Under option 1, the company allotted 100 senior, secured, rated, listed, redeemable, taxable NCDs having face value of Rs 10 lakh each for an issue size of Rs 10 crore plus greenshoe option of Rs 25 crore. The debentures have a coupon rate of 8.5% p.a and will mature on 18 October, 2032.
Under option 2, the NBFC allotted 12,500 senior, secured, rated, listed, redeemable, taxable NCDs having face value of Rs 1 lakh each for an issue size of Rs 125 crore plus greenshoe option of Rs 125 crore. The debentures have a coupon rate of 8.75% p.a and will mature on 15 June, 2026. The proceeds from the issue will be utilized for onward lending to grow the asset book, refinancing of existing debt, and other general purposes of the company.
BLS International Services: The company said that BLS E-Services, a subsidiary of the company, has acquired additional equity shares of Zero Mass (ZMPL) from its existing shareholder by means of share transfer agreement. With this development, BLS E-Services will hold an aggregate of 90.942% of the paid-up share capital of ZMPL.
ZMPL has been operating as the largest business correspondent (BC) network for State Bank of India (SBI) with around 11,500 active customer service points (CSP) (approximately 15% of all the SBI BCs). The company has pan-India presence with CSPs located across all States and Union Territories of India. Apart from SBI, ZMPL has contracts with Utkal Grameen Bank and Karur Vysya Bank. It had recorded turnover of Rs 161 crore in FY22.
Godawari Power & Ispat: The company said that an overburden dump at Company's Ari Dongri Iron Ore Mines has collapsed partially and the same has resulted into partial impact on the iron ore mining operations at the said mines. The company further said that it is taking necessary measures to prevent the damage and resume the mining operations at full capacity, as soon as possible. However, the company stated that the same will not have any negative impact on the production of iron ore Pellets, as the company is having sufficient inventory of iron ore at plant level for a few weeks.
Man Industries (India): The carbon steel pipe manufacturer said that it has received new export order of about Rs 1,300 crore. With this development, the company's total order book stood at Rs 2,000 crore that is to be executed in 6 to 8 months. The company is engaged in manufacturing & coating of large diameter carbon steel pipes, infrastructure, realty & trading. It caters to international clients in the oil & gas industry, petrochemicals, water, dredging & fertilizers.
Orient Paper and Industries: The company's board approved capital expenditure aggregating to Rs 475 crore for modernization/debottlenecking of its manufacturing facility at Amlai, Madha Pradesh. The project will improve operating capacity of the paper mill to 400 ton per day and is likely to be completed in 24 months.
K&R Rail Engineering: The company has completed the Survey for Sagar Cements' Railway Siding Project for their Cement plant at Tadepalli, valued at more than Rs.100 crore. The company also completed Road and Bridge works worth Rs. 61.90 crore for Four laning of Suryapet to Khammam of NH-365BB in Telangana under Bharatmala Pariyojna for ESSAR Projects.
Patel Engineering (PEL): The company along with joint venture partner were declared as lowest (L1) bidder for two micro irrigation projects worth Rs 1,265 crore in Madhya Pradesh and Karnataka. Water Resources Department, Government of Madhya Pradesh and Visvesvaraya Jala Nigam (VJNL), respectively, have declared Patel Engineering (PEL) as L1 for a Rs 998.75 crore contract that includes survey, investigation, designing, and construction of SHER Dams with all ancillary works including rising / gravity main and pipe distribution network works in Madhya Pradesh. Another contract worth Rs 266.38 crore includes survey, design, supply, installation, testing and commissioning of micro irrigation system under Tumkur Branch Canal Package – III in Karnataka (Tumkur Branch Canal project).
Paisalo Digital: The company said that state-owned lender Canara Bank has approved a disbursal of Rs 75 crore as term loan for 5 years to the company for onward lending. "Management of the company feels that this disbursement will help the company to achieve its growth plans, Paisalo Digital said in a statement. The company is registered with RBI as a non-deposit taking systemically important NBFC.
NACL Industries: The company's subsidiary, NACL Multichem, has received environment clearance for establishing manufacturing facility in Andhra Pradesh. The said facility would be involved in the manufacturing of various agrochemicals, synthetic organic chemicals and fluorine based chemicals with a production capacity of 264.615 TPD and co-generation power plant (6 MW).
Styrenix Performance Materials: The company's board has declared an interim dividend of Rs 80 per equity share. The record date for the purpose of determining the shareholders eligible to receive the interim dividend is 24 March 2023.
Eris Lifesciences: The company announced that it will acquire a part of the dermatology portfolio of Dr.Reddy's Laboratories by way of acquisition of nine trademarks along with their applicable line extensions for Rs 275 crore. The acquisition will help augment and expand the cosmetic dermatology business of the company by way of expansion in the product offerings. The turnover of the brands acquired for the period ended 28 February 2023 stood at Rs 62.10 crore.