Market Opening - An Overview
Nifty futures on the Singapore Exchange were trading 0.67% higher at 17,137, signalling that Dalal Street was headed for positive start on Friday.
Asian markets were trading higher on positive cues after a rescue package for First Republic Bank fuelled a rebound in US shares. The Nikkei 225 index rose 0.66% and Topix gained 0.73%. The Hang Seng jumped 1.26% and the CSI 300 index advanced 0.71%.
Indian rupee dropped 13 paise to 82.73 against the US dollar on Thursday.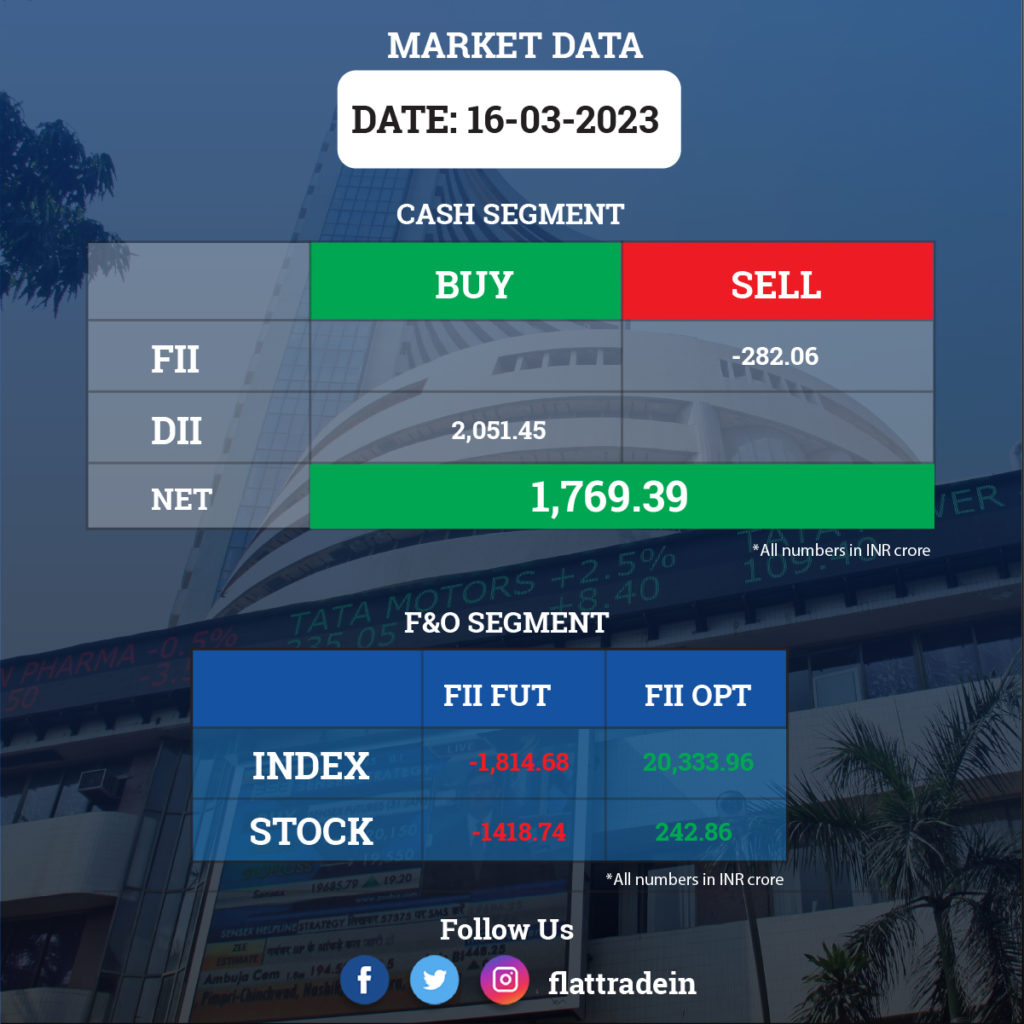 Tata Consultancy Services (TCS): Rajesh Gopinathan has resigned as Chief Executive Officer and Managing Director of the company. K Krithivasan is appointed as the Chief Executive Officer Designate, with effective from March 16, who takes over as the Chief Executive Officer and Managing Director of TCS in the next financial year, subject to shareholders' approval.
Infosys: The company's subsidiary, Infosys Finacle, part of EdgeVerve Systems, has implemented its liquidity management solution for ABN AMRO's corporate customers. The bank will now be able to provide its customers a single point of access to better manage their global commercial cash flows securely from anywhere and on any device of their choice.
Hindustan Aeronautics (HAL): Defence Minister Rajnath Singh, in the meeting of the defence acquisition council, approved proposals to procure Rs 70,000 crore worth of different weapon systems for the Indian defence forces. The deal includes the purchase of 60 UH Marine choppers from Hindustan Aeronautics (HAL), worth Rs 32,000 crore.
Dr Reddy's Laboratories: The pharma major has signed a deal to divest certain non-core brands in the dermatology segments to Eris Lifesciences. Eris Lifesciences will get trademark of these brands for Rs 275 crore. As per IQVIA MAT December 2022, the divested portfolio saw sales of Rs 60 crore in India.
Voltas: The company's subsidiary, Universal MEP Projects & Engineering Services (UMPESL), has bagged multiple SITC project orders worth Rs 1,770 crore in electrical power distribution business for FY23, including a solar power project.
Bajaj Finance: The company has appointed Dr Arindam Bhattacharya as an independent director on its board for five years with effect from April 1, 2023. The NBFC has also appointed Anup Saha and Rakesh Bhatt as Executive Directors on the board for five years with effect from April 1. Anup Saha and Rakesh Bhatt are presently the Deputy Chief Executive Officer of Bajaj Finance and members of company's executive management team.
Rail Vikas Nigam: The PSU has emerged as the lowest bidder for projects worth Rs 111.85 crore. The scope of work includes supply, installation, testing and commissioning of 11 KV line associated works in various circles of MPPKVVCL, Jabalpur company area.
Zee Entertainment Enterprises (ZEEL): The media company and Indian Performing Right Society (IPRS) have mutually entered into the settlement agreement, and hence all disputes and claims have been settled between them. Accordingly, IPRS agreed to withdraw the insolvency petition filed by them. There is no penalty paid and no material impact on the financial position of the company.
Glenmark Pharmaceuticals: Glenmark Specialty SA, the subsidiary of Glenmark Pharmaceuticals has received acceptance from US Food and Drug Administration (FDA) on its investigational new drug (IND) application for GRC 54276 to proceed with a Phase 1/2, for the treatment of patients with advanced solid tumors and lymphomas. GRC 54276 is an orally available, small molecule hematopoietic progenitor kinase 1 (HPK1) inhibitor developed by Glenmark. Meanwhile, Glenmark Life has announced an interim dividend of Rs 21 per equity share for the current financial year 2022-23.
Vodafone Idea: CARE Ratings revised outlook on Vodafone Idea (Vi) bank facilities to "positive" from "stable". It also reaffirmed "B+" rating for debentures and long-term loans. The outlook upgrade was done on hopes of equity infusion and raising of long-term debt from the banks.
Adani Transmission: The company incorporated wholly-owned subsidiary in the name of 'Adani Electricity Aurangabad.' It was incorporated to apply parallel distribution license in Aurangabad. The company is yet to commence business operations.
Zensar Technologies: The company launched Zensar Learning Academy in Pune, India. The academy aims to provide upskilling, and specially curated modules to bring combination of product engineering, coding, design thinking, and client-centric problem-solving tools.
Tiger Logistics: The company bagged government tender of Bank Note Paper Mill, which will help enhance business of the company. With this order, the company aims to strengthen its position to handle logistics for government to handle sizeable business.
Lemon Tree Hotels: The company signed a license agreement for a 60-room property in Sri Ganganagar, Rajasthan, which is expected to be operational by July 2026.
GlaxoSmithKline Pharmaceuticals: The company estimated the impact of National List of Essential Medicines price revisions and is working on multiple mitigations. It expects the impact of the price revision on profits to be in low single digits in the next financial year.
NTPC: Malaysia's Petronas has offered Rs 3,800 crore ($460 million) to buy a 20% stake in the green energy arm of NTPC in the first deal of its kind by a state-run firm, Reuters reported.
SAIL: The company's board has declared an interim dividend of Rs 1 per share for the current financial year.