Benchmark indices ended higher in the volatile session with Nifty at 17,100, Sensex up 355 pts backed by IT, metal, realty. auto and FMCG stocks alone down.
In broader markets, The BSE midcap was up 0.3 percent and smallcap index added 0.7 percent.
Indian rupee raises by 18 paise to 82.55 against the US dollar on Friday.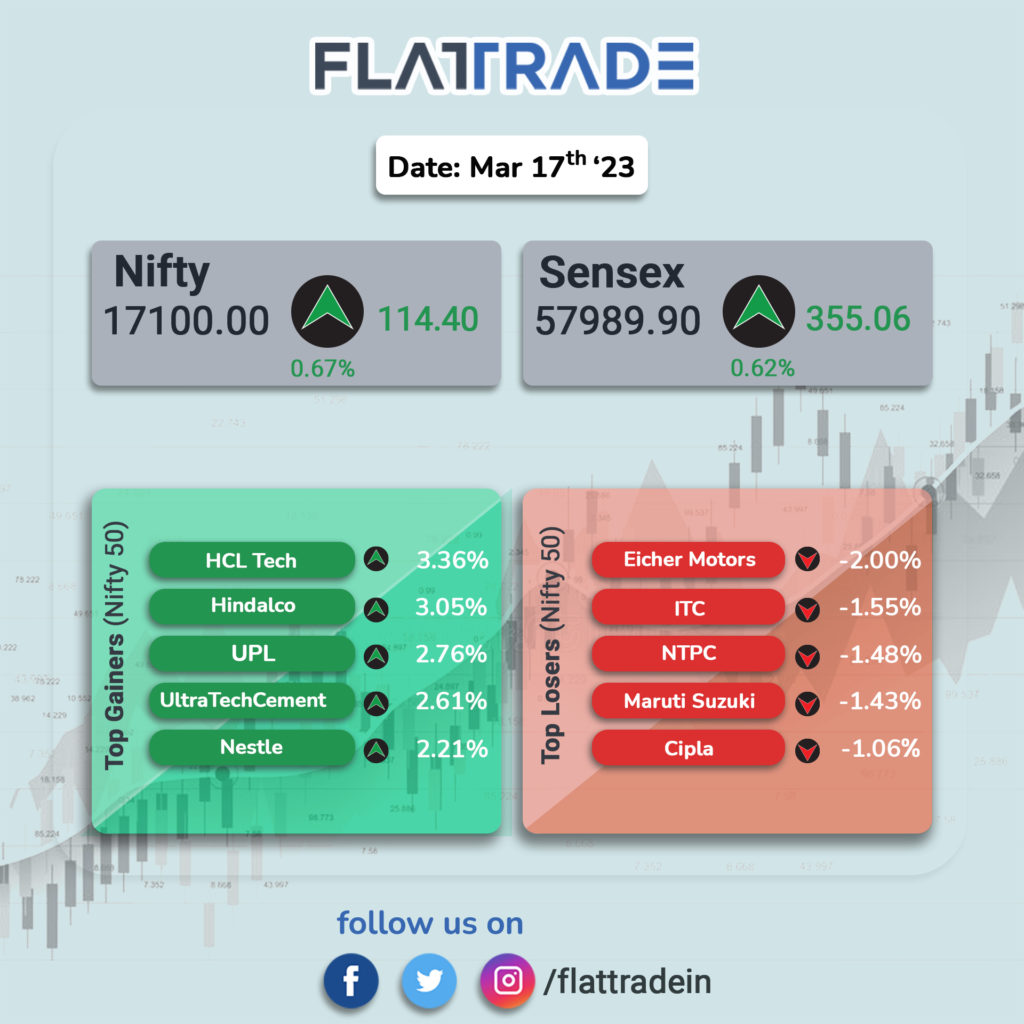 HDFC: The National Company Law Tribunal (NCLT) on Friday gave its approval to the HDFC-HDFC Bank merger.The proposed entity will have a combined asset base of around Rs 18 lakh crore. The merger is expected to be completed by the second or third quarter of FY24, subject to regulatory approvals.
G R Infraprojects: The Infra company has emerged as L‐1 bidder in financial bid opening for the tender invited by East Coast Railway for "Construction of Tunnel work between Km. 153.0 to 180.0 (Adenigarh – Purunakatak) consisting of Tunnel‐T4, T5, T6 & T7 (Apx. Length of 7.492 Km) & allied works of Khurda – Bolangir new rail line project in east coast railway. The bid project cost is Rs 587.59 crore.
GAIL India: India's largest gas utility firm on Friday said it has signed an agreement with Shell Energy India Pvt Ltd to explore ethane sourcing and other opportunities along the energy value chain. GAIL is planning to import ethane from the US to replace natural gas and naphtha as feedstock at petrochemical plants.
Glenmark Pharmaceuticals: Glenmark Specialty SA, the subsidiary of Glenmark Pharmaceuticals has received acceptance from US Food and Drug Administration (FDA) on its investigational new drug (IND) application for GRC 54276 to proceed with a Phase 1/2, for the treatment of patients with advanced solid tumors and lymphomas.
Transport Corporation of India: HDFC Mutual Fund through several schemes bought additional 2.04 percent stake or 15.78 lakh shares of Transport Corporation of India via open market transactions on March 14. With this, the shareholding of fund house increased to 7.7 percent, from 5.66 percent earlier.
Jubilant Ingrevia: The FMCG company has acquired 37.98% stake in its associate company Mister Veg Foods, for Rs 2.12 crore. This investment is towards potential synergies with the nutrition business of the company.
Glenmark Life Sciences: The board of directors has declared an interim equity dividend of Rs 21 per share (face value Rs 2 per share) for the financial year 2022-23.The record date for determining the list of shareholders for payment of dividend has been fixed as March 24 and the said dividend will be paid to such shareholders on or after March 29.