Market Opening - An Overview
Nifty futures on the Singapore Exchange were trading 0.90% higher at 17,040, indicating that Dalal Street was headed for a positive start on Thursday.
Most Asian shares were trading higher, tracking gains in Wall Street overnight, after the Bank of England launched a bond buying programme of long-dated government bonds to stabilise financial markets. Japan's Nikkei 225 index rose 0.27% and Topix slipped 0.06%. China's CSI 300 index advanced 0.62% and the Hang Seng index jumped 1.44%.
Indian rupee closed 36 paise to 81.94 against the US dollar on Wednesday compared with Tuesday's close of 81.58 per dollar.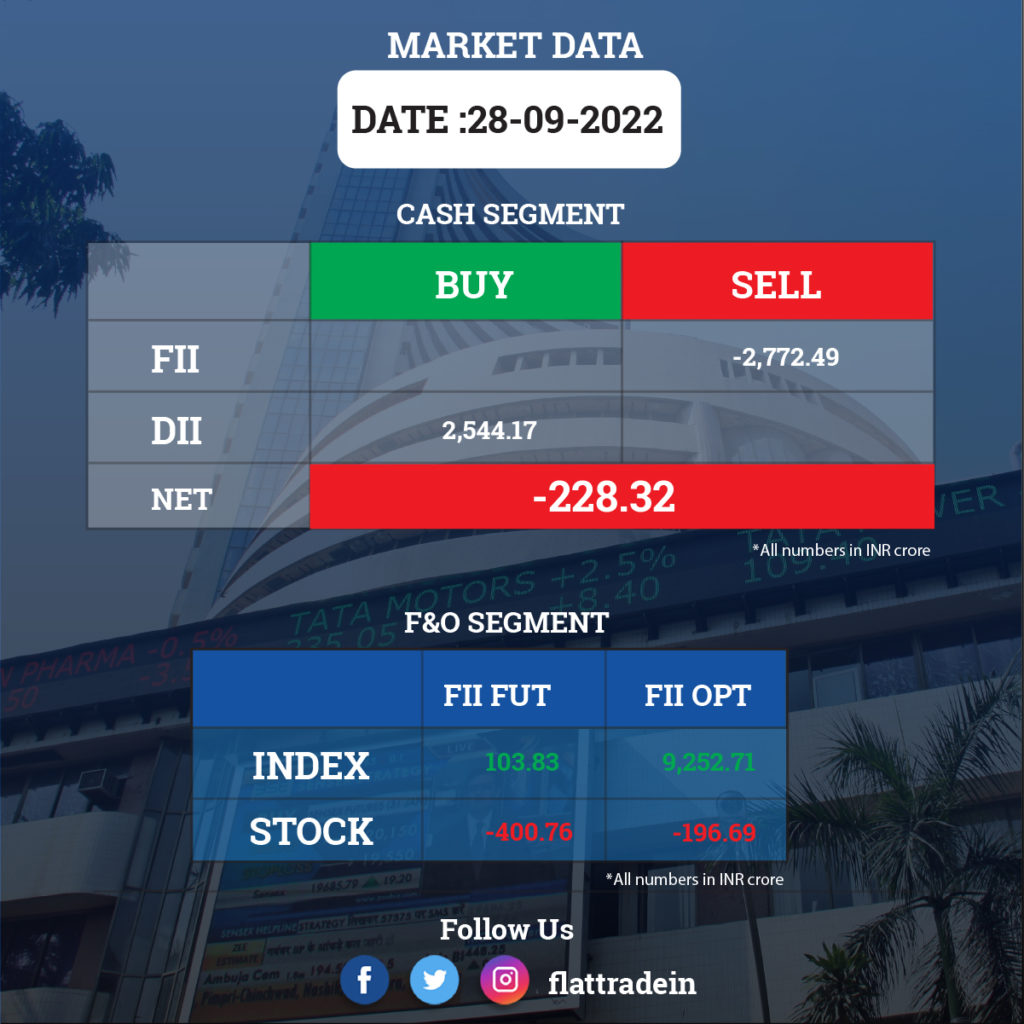 Ambuja Cements and ACC: Ambuja Cements, which is now controlled by Adani Group, has signed a non-dealing undertaking (NDU) on 50.5% shareholding in its subsidiary ACC as "collateral for loans taken by the company". The company signed a NDU on 9.39 crore shares of ACC, said a regulatory filing by Ambuja Cements.
Airtel: The company's Payments Bank has started rolling out 1.5 lakh micro ATMS in a phased manner across tier 2 cities and semi-urban regions to facilitate cash withdrawal for its customers. The bank will leverage its strong network of over 5 lakh banking points across India to gradually expand its service to cover more banking points in a phased manner.
Steel Authority of India Ltd (SAIL): The company has produced 18.733 million tonnes of hot metal and 17.366 million tonnes of crude steel during 2021-22, its best ever production performance. The company said during its annual general meeting that it has entered the elite club of Indian companies having a turnover of over Rs 1 lakh crore. The company's turnover of Rs 1.03 lakh crore during FY22 saw a substantial growth of more than 50 per cent over the previous best turnover of Rs 68,452 crore, achieved during FY21.
Patanjali Foods: The company plans to build a strong distribution led export portfolio of fast-moving consumer goods and fast moving health goods products. It also plans to launch new products with high margin and high growth, according to its exchange filing The company plans to leverage technology across functions and focus on on digital channel as well as e-commerce to drive growth.
Hindustan Copper Ltd (HCL): The company's shareholders Wednesday approved a 23.2% dividend for the financial year ended in March 2022. The company would make a total dividend payout of Rs 112.17 crore as approved in the 55th Annual General Meeting, HCL said in a statement. The company said it has also repaid a loan of Rs 729 crore in FY22 from its internal accruals.
Supriya Lifescience: The company has received Certification of Suitability (CEP) for Diphenhydramine hydrochloride, a API in anti-histamine therapy, from European Directorate for the Quality of Medicines and HealthCare (EDQM). This will be an added advantage for Supriya Lifescience in the European market, according to its exchange filing. Global demand for Diphenhydramine Hydrochloride is 1850 tons, of which major demand is in the regulated markets, the company said in the fining.
Anupam Rasayan India: The company has opened its qualified institutional placement issue on September 28 after the approval of preliminary placement document. The floor price has been fixed at Rs 762.88 per share. It may offer a discount of up to 5 percent on the floor price.
Suzlon Energy: in an exchange filing, the company informed the opening of its Rs 1,200 crore rights issue on October 11, 2022. The company will issue up to 240 crore partly paid-up equity shares of Rs 2 each at an issue price of Rs 5 per share aggregating up to Rs 1,200 crore. The issue will be in the ratio of 5 rights equity shares for every 21 fully paid-up equity shares held by the eligible shareholders on the record date of October 4, 2022.
Blue Dart Express: The logistics company has announced an average shipment price increase of 9.6% for 2023 as compared to 2022. The general price increase will be effective from January 1, 2023.
Zomato: The company has extended its Intercity Legends service to Bangalore after launching the service in in areas of South Delhi and Gurugram a few weeks ago. Zomato expects the offering to be profitable as it achieves economies of scale.
Ramco Cements: The company has commissioned its fifth cement plant at Kolumigundla, Andhra Pradesh. The plant has a clinkerisation capacity of 2.25 million tonnes per annum and the project cost of the plant is Rs 3,000 crore.
UCO Bank: The state-owned bank is in the process of opening a special Vostro account with Russia's Gazprombank for settlement of trade in Rupee against the backdrop of sanctions imposed by western countries on Russia following its invasion of Ukraine.
Essar Shipping: The company said the board of directors has approved the appointment of Vipin Jain as Chief Financial Officer of the company. The appointment will be effective from October 1, 2022. Ranjit Singh has decided to resign from the post of Chief Executive Officer due to personal reasons.
Genesys International: The company has announced collaboration with Bentley Systems to provide 3D mapping capabilities for major cities across India. Bentley Systems is an infrastructure engineering software company.
Gensol Engineering: The company said the board has approved preferential allotment of 12,81,993 equity shares at an issue price of Rs 1,036.25 per share.
ITI: The company has received Rs 80 crore against allotment of shares to the Government of India. The company's board of directors has approved allotment of 77,33,204 equity shares at Rs 103.45 per share to the President of India.