Market Opening - An Overview
Nifty futures on the Singapore Exchange were trading 0.38 per cent lower at 18,590.50, signalling that Dalal Street is likely to open lower on Monday.
Asian stocks were trading lower as protests in major Chinese cities against the country's strict zero-COVID policy raised worries on its economic growth. Japan's Nikkei 22 index fell 0.62% and the Topix index was down 0.79%. The Hang Seng index plummeted 2.45% and the CSI 300 index fell 1.67%.
Indian rupee fell 6 paise to 81.69 against the US dollar on Friday.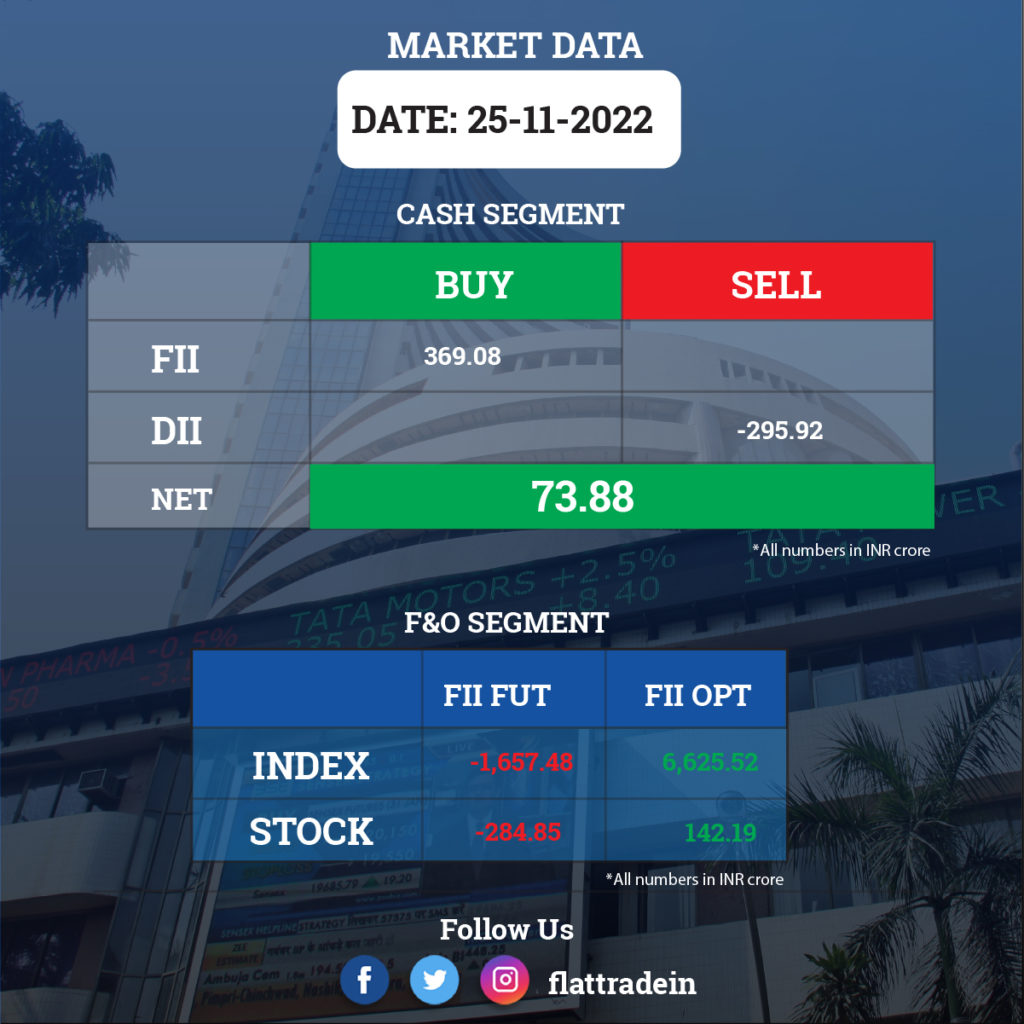 Paytm: The fintech company said that it has received a letter from the RBI in response to an application from PPSL for the authorisation to provide payment aggregator services ("PA application") for online merchants. The company can now resubmit the application within 120 calendar days for the payment aggregator services. The company will also seek necessary approval for past downward investment from One97 Communications Ltd (OCL) into PPSL, to comply with FDI guidelines.
Adani Group: One of the companies of the group has sought licence for expanding its power distribution business into more areas of Mumbai, including the country's largest container port JNPT. Adani Electricity Navi Mumbai (AENM) said it has approached the Maharashtra Electricity Regulatory Commission (MERC) for a distribution licence in some pockets of the Mumbai Metropolitan Region along with its listed parent Adani Transmission. The company is aiming to get licence to distribute power in areas exclusively served by the state-owned Mahadiscom in Mumbai's suburbs Mulund and Bhandup, and also Thane district, Navi Mumbai, Panvel, Kharghar, Taloja and Uran.
Indian Oil Corporation (IOCL): The oil marketing company has raised Rs 2,500 crore by issuing 25,000, 7.44 per cent NCDs of Rs 10 lakh each on a private placement basis. The purpose of the fundraising is for refinancing existing borrowing or funding capital expenditure.
Bajaj Finance: The NBFC has entered into a share purchase agreement to acquire up to a 40 per cent stake in Snapwork Technologies by way of primary and secondary transactions. The acquisition cost is estimated to be Rs 93 crore and the acquisition which will be completed by December 2022. The company intends to strengthen the technology roadmap through this acquisition.
Hero MotoCorp: The two-wheeler manufacturer will raise the ex-showroom prices of its motorcycles and scooters from December 1. The price increase will be up to Rs 1,500 and the quantum will vary depending on the models and markets. The company aims to offset any further cost impact and drive improvement in margins, the company has said.
L&T Finance Holdings: L&T Finance Holdings has completed 100 per cent stake sale in subsidiary L&T Investment Management and received Rs 3,484 crore ($425 million) as consideration from HSBC Asset Management (India). The company also realised a surplus cash balance of Rs 764 crore in L&T Investment Management.
Va Tech Wabag: The Indian water technology multinational company signed an agreement with the Asian Development Bank (ADB) towards raising Rs 200 crore through unlisted non-convertible debentures (NCD). The NCDs carrying 5 years and 3 months tenor will be subscribed by ADB over a 12-month period. This will be ADB's first investment in a water sector company in India.
Shriram Properties: The company's subsidiary, Shriprop Builders, has acquired Suvilas Realities, a real estate company in Bengaluru. The deal value is Rs 30 crore for a 100 per cent stake. Suvilas Realities is developing a high-rise residential apartment project Suvilas Palms in the Bengaluru's Jalahalli neighbourhood .
Indian Energy Exchange: The company got the board of directors' approval for a Rs 98-crore share buyback. The buyback price is Rs 200 a share and the maximum number of shares to be bought back would be up to 49 lakh.
Muthoot Finance: The NBFC will raise Rs 300 crore through a public issue of secured redeemable non-convertible debentures of the face value of Rs 1,000 each. The base issue size is Rs 75 crore with an option to retain oversubscription up to Rs 225 crore aggregating up to a tranche limit of Rs 300 crore. The issue will open on November 28 and close on December 19.
Godrej Properties: The realty firm plans to launch a luxury housing project at Ashok Vihar in the national capital in March quarter and is eyeing Rs 8,000 crore of sales revenue from this property. In February 2020, it had acquired about 27-acre land in the national capital for Rs 1,359 crore to develop a luxury housing project. The land parcel belonged to Rail Land Development Authority (RLDA).
IDBI Bank: The lender will continue to operate as an Indian private sector bank after its strategic sale and the government's residual 15 per cent stake in the lender post privatisation will be considered as 'public shareholding', the finance ministry said.
JK Cement: The company has increased its cement grinding capacity by 2 million tonnes per annum as its subsidiary Jaykaycem has successfully commenced cement grinding capacity at its newly set up cement manufacturing facilities in Uttar Pradesh.
Lemon Tree Hotels: The hotel chain has signed a License Agreement for a 42 rooms hotel in Jamshedpur. The hotel is expected to be operational by end of September, 2023. Its hotel management arm Carnation Hotels will be operating this hotel.
HFCL: The company, in an exchange filing, said that it has received a contract worth Rs 1,770 crore from SWSM for providing EPC Services including provision for laying of optical fiber cables, for execution of Rural Water Supply Network in Varanasi Revenue Division in Uttar Pradesh. The said project will be executed by the company with JWIL Infra as a consortium partner.