Market Opening - An Overview
Nifty futures on the Singapore Exchange were trading 0.39% higher at 18,498, signalling that Dalal Street was headed for a positive start on Wednesday.
Japanese stocks opened lower on Wednesday as a surprise Bank of Japan (BoJ) policy adjustment weighed on the market. The Nikkei 225 index fell 0.225 and the Topix slipped 0.01%. Chinese markets were trading higher with the Hang Seng gaining 0.39% and the CSI 300 index rising 0.54%.
Indian rupee fell 5 paise to 82.76 against the US dollar on Tuesday.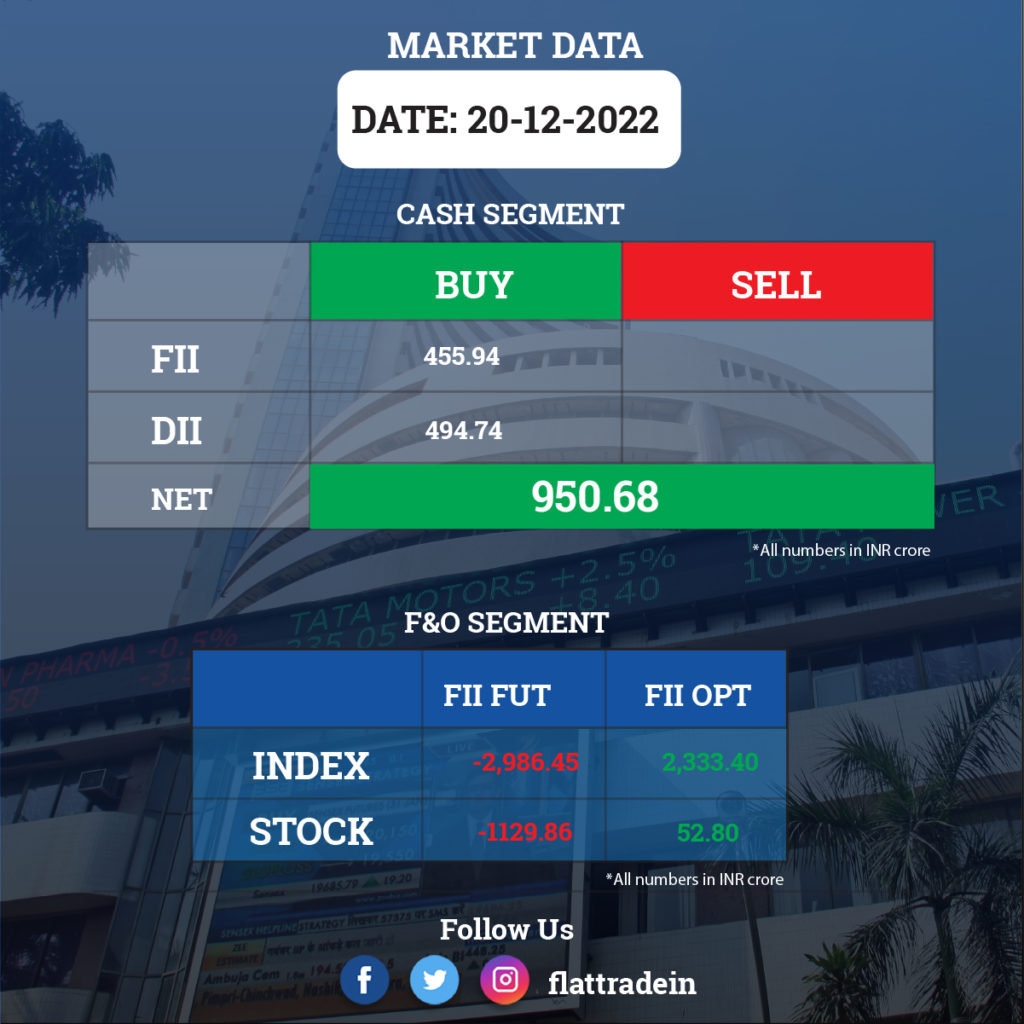 Bharti Airtel: The company has entered into an agreement for the acquisition of 8% stake in a technology startup, Lemnisk (Immensitas Private Limited) under Airtel's Start-Up Accelerator Program. Lemnisk is a Bengaluru-based start-up that offers real-time marketing automation and secure customer data platform.
Both the companies will work together to build the world's largest CDP platform across Airtel's digital businesses including ad-tech (Airtel Ads), digital entertainment (Wynk Music and Airtel Xstream) and digital marketplace (Airtel Thanks App). In future, Airtel plans to offer this service to its enterprise customers through Airtel IQ, which is the network-integrated Cloud Platform as a Service (CPaaS).
Mindspace Business Parks REIT: In a regulatory filing, the company said that it has completed an issuance of commercial papers of Rs 100 crore for a maturity of three months at an interest rate of 7.2 per annum. The funds will be utilised towards the working capital requirements of Mindspace REIT's asset SPVs (special purpose vehicle). Loan to value of Mindspace REIT stood at 16.8 per cent as on September 30, 2022.
GAIL India: The company has raised Rs 1,575 crore via issuance of 15,750, 7.34% non-convertible debentures (Series-I) of Rs 10 lakh on a private placement basis.
Dabur India: The FMCG company's promoters (Burman family) have sold 1% stake in the company through the open market to raise funds for financing some ventures. The Burman family sold shares through its Gyan Enterprises and Chowdry Associates. The company had recently announced its entry into the women's personal hygiene space with the launch of Fem Ultra Care Sanitary Napkins.
VIP Clothing: The company has sold its Umbergaon factory and raised Rs 10.41 crore. The capital gained by selling this asset will now be utilised in business at a different level from production, technology, innovation and marketing.
City Union Bank: The private sector lender has announced divergence in NPAs to the tune of Rs 259 crore consisting of 13 borrower accounts (with an outstanding balance of more than Rs 1 crore) for an amount of Rs 230 crore and 218 borrowers (with an outstanding balance of less than Rs 1 crore) for an amount of Rs 29 crore for the year ended March 2022. Also, there was a divergence in provisioning amounting to Rs 40 crore for the same period. The divergence is the difference between NPAs reported by the bank and assessed by the RBI.
Sundaram Finance: The NBFC has signed an agreement with Care Health Insurance to offer specialised health insurance solutions to its customers. Sundaram Finance would provide health insurance solutions of Care Health through its extensive network.
Visaka Industries: The building material manufacturer said its Rs 130-crore plant which is being built in West Bengal will be operational by August 2023. The project will raise the total capacity of environment-friendly boards and panels to 3.5 lakh tonne. This will be Visaka's fifth cement fibre board plant in the country.
Future Enterprises: The debt-ridden company said it has defaulted on interest payment of Rs 6.07 crore for non-convertible debentures. The due date for payment was December 19, 2022.
Tirupati Forge: Mauritius based Aegis Investment Fund has purchased 5 lakh shares at Rs 22 per share of the company which is engaged in manufacturing of closed die forged products such as bearings gears and forged flanges of mild steel carbon steel stainless steel.
Central Bank of India (CBI): The state-run banks board will be meeting on December 26 to discuss a proposal of raising the capital through issuance of Tier II Bonds.
Jagran Prakashan: The company's board has fixed January 6, 2023, as the record date for its share buyback programme. The company had earlier announced share buyback up to Rs 345 crore, i.e. 46 million equity shares at Rs 75 each.
Jubilant Ingrevia: The company has raised Rs 150 crore via the issuance of commercial papers. The date of maturity is February 2023, with a coupon rate of 7.05 percent per annum.
Uno Minda: The company has entered into a licence agreement with Ascentec, Korea to strengthen its advance automotive sensors product portfolio. Asentec, a subsidiary of Sejong Industrial, specialises in mobility parts centred on sensors and actuators with manufacturing facilities in Korea, Vietnam and China.
Shyam Metalics and Energy: The company said it has forayed into the stainless steel business by acquiring Mittal Corp in an NCLT-led resolution process. The company will invest about Rs 7,500 crore over the next 4-5 years to scale up its metal business, Shyam Metalics vice-chairman and managing director Brij Bhusan Agarwal said.