Two-wheeler manufacturers expect their sales volume to grow by 6-6.5% in FY23 on improved rural demand and increase in mobility, according to CareEdge. However, supply-chain bottlenecks and high inflation have dampened consumer sentiments, which will lead to a slower pace of growth.
Two-wheeler manufacturers in India have witnessed a steep rise in input costs since the start of the Russia-Ukraine war in the fourth quarter of financial year 2022. The prices of raw materials such as steel and aluminium increased by about 20.61% and 52% higher, respectively, in March 2022, compared to a year earlier.
Besides, the prices of other key commodities used in the producing two-wheelers, such as rubber, paint, and plastics have also increased for motorcycle manufacturers.
Although, the original equipment manufacturers (OEMs) increased the prices of their products to offset higher input costs, their margins were impacted in Q4FY22. The OEMs reported a decline of 90 basis points (bps) year-on-year, according to CareEdge.
CareEdge said that electric vehicle (EV) two-wheeler sales surged 61% in FY22, but accounted for only 1.3% of the total two-wheeler sales during the period. However, the recent surge in the demand for electric two-wheelers will support the overall sales of two-wheelers in the current fiscal.
The rating agency noted that EV two-wheeler costs anywhere between Rs 90,000 and Rs 100,000, compared to an entry-level commuter Internal Combustion Engine (ICE) two-wheeler ranging between Rs 50,000 and Rs 65,000. This will restrain a large-scale shift towards EVs, but, in the short-run, low fuel and ownership costs, low maintenance, along with the improving charging infrastructure, are likely to ensure a speedy transition towards EVs, along with extended subsidies maintaining the price band.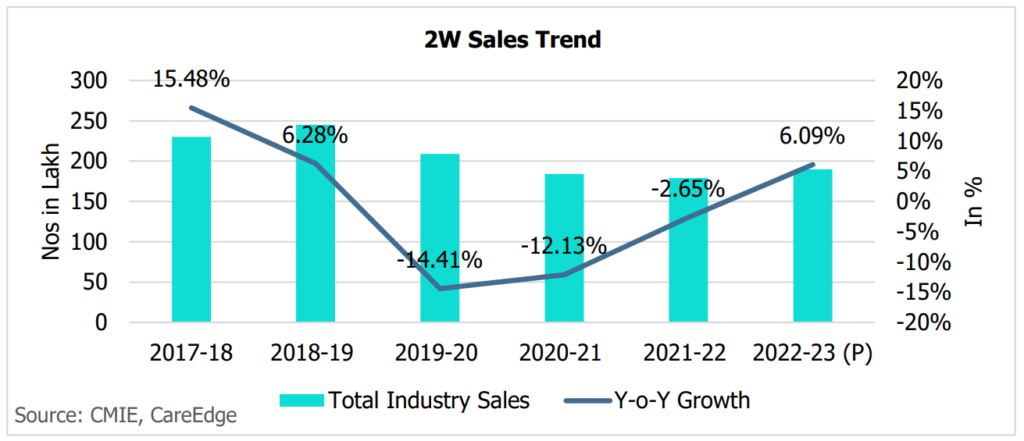 According to CareEdge, two-wheeler sales volume, including exports, is expected to grow in FY23, driven by improved mobility, higher demand, and improving consumer sentiments.
Demand from rural market is expected to witness healthy volume growth, aided by a normal monsoon and the softening in input costs. Despite volume growth, the margins are expected to remain under cost pressure due to the high commodity prices. CareEdge expects the PBIDLT margin to decline in the first half of FY23 by 76 bps on account of the higher raw material costs.
Moreover, the margins in second half of FY23 are expected to revive moderately by 53 bps as compared with H1FY23 as original equipment manufacturers are likely to hike prices and continued softening of raw material costs.