Benchmark Indian indices closed higher on Monday, after a volatile session, helped by gains in technology and banking stocks. The Sensex closed 0.23% higher at 54,402.85 and Nifty edged up 0.12% to 16,258.25.
The top gainers among banking stocks were Axis Bank (1.98%), IndusInd Bank (1.29%), AU Small Finance Bank (1.28%), HDFC Bank (0.75%) and ICICI Bank(0.75%). In technology sector, shares of Tech Mahindra, Oracle and Infosys gained 1.81%, 0.86% and 0.79%, respectively.
Indian rupee opened lower at 74.22 against the US dollar compared to Friday's close and ended at 74.26 against the greenback.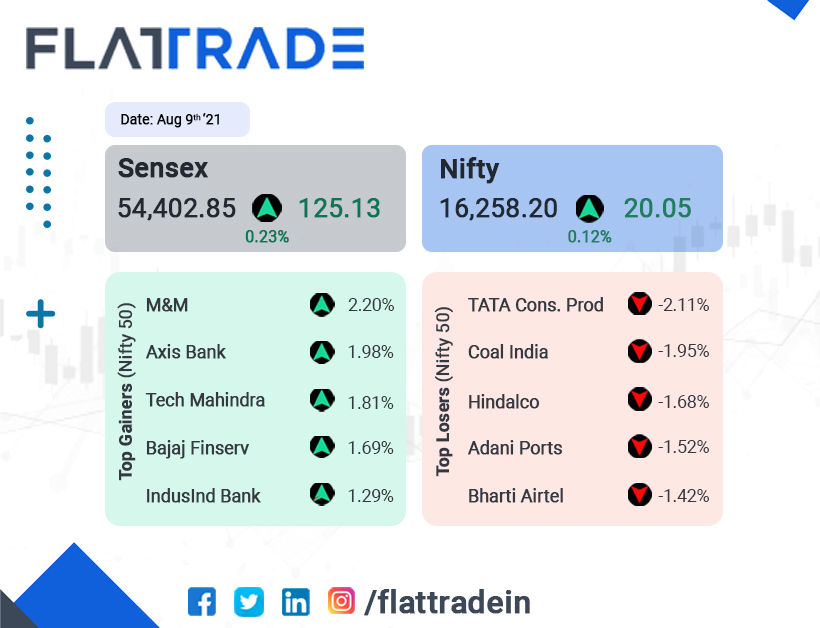 MRF: Tyre maker posted a multi-fold rise in its consolidated net profit at Rs 166 crore in the first quarter of FY22, from Rs 13.46 crore in the same period of last financial year. Its operating revenue rose to Rs 4,184 crore in the quarter as against Rs 2,461 crore in the corresponding period of last year. Total expenses almost doubled to Rs 4054.24 crore in Q1 of FY22, from Rs 2478.55 crore in the year-ago period. MRF shares closed 1.13% higher at Rs 80,050.65 apiece on NSE.