Benchmark Indian indices snapped its gaining streak and closed lower in a volatile sesion on Tuesday, weighed by selling pressure across sectors. The Sensex closed lower 0.08% to 61716.05 and Nifty lost 0.32% to 18418.75.
Nifty PSU Bank lost 3.73%, FMCG plunged 3.73%, Metal dropped 2.46%, Auto and Pharma fell 1.59% and 1.46%, respectively. Energy was down 1.44%. Nifty IT was only gainer at 2.20%.
Currency market was shut today for Id-E-Milad.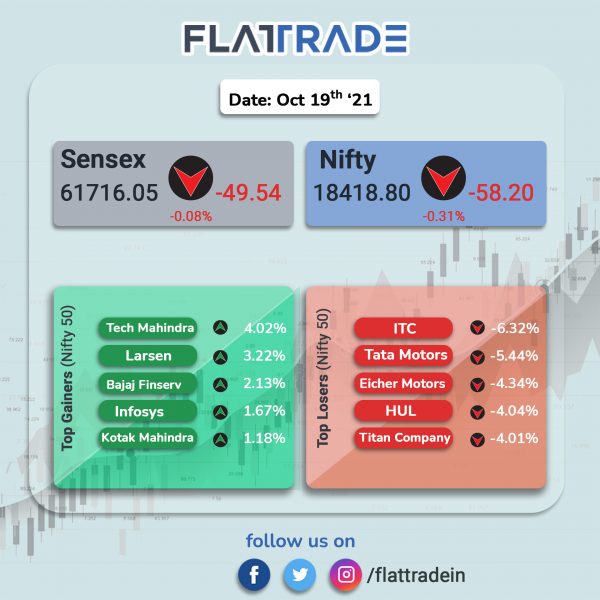 Hindustan Unilever Ltd: The FMCG major reported an 8.9% year-on-year rise in standalone profit at Rs 2,187 crore in the second quarter of FY22. Its operating revenue grew 11.2% to Rs 12,724 crore in Q2FY22 from the year-ago period. Rising input prices capped the company's growth, while price hikes supported operating profit margin.
Den Networks: The company reported a consolidated net sales of Rs 325.05 crore in Q2FY22, as against Rs 337.67 crore in the year-ago period. Its net profit rose 7.16% to Rs 39.39 crore in the reported quarter from Rs 36.76 crore in the corresponding quarter last year.
Equitas SFB: The company plans to raise up to Rs 1,000 crore in equity capital by issuing shares to institutional investors to meet minimum public shareholding (MPS) norms. The lender need to satisfy the rule stipulated by market regulator Sebi as listed entities are expected to have at least 25 per cent public holding.
Gati Ltd: The company has ramped up its network capacity by 20-25% by adding 100 line haul trucks to its flexi network to connect the demand locations besides scaling up workforce by at least 15%. Moreover, Gati Air has bolstered its network by partnering with leading airlines providing direct connections to 28 commercial airports in India to cater to the festive demand more efficiently.
Inox Wind Ltd: Shares of the company plunged more than 9% after the company entered into a share purchase agreement with its subsidiary Inox Wind Infrastructure Services to acquire the entire issued and paid up equity share capital of Resco Global Wind Services. This agreement would make Resco Global a direct wholly owned subsidiary of Inox Wind.