Benchmark stock indices closed higher, boosted by gains in technology, banking and metal stocks, after RBI maintained status quo with respect to key interest rates and continued its accommodative stance. The Sensex closed 0.79% higher and Nifty rose 0.81%.
Top gainers among Nifty sector indices were Metal [1.66%], Bank [1.04%], IT [1.02%]. Auto sector slipped 0.05% and closed in the negative territory.
Indian rupee fell 13 paise to 74.94 against the US dollar.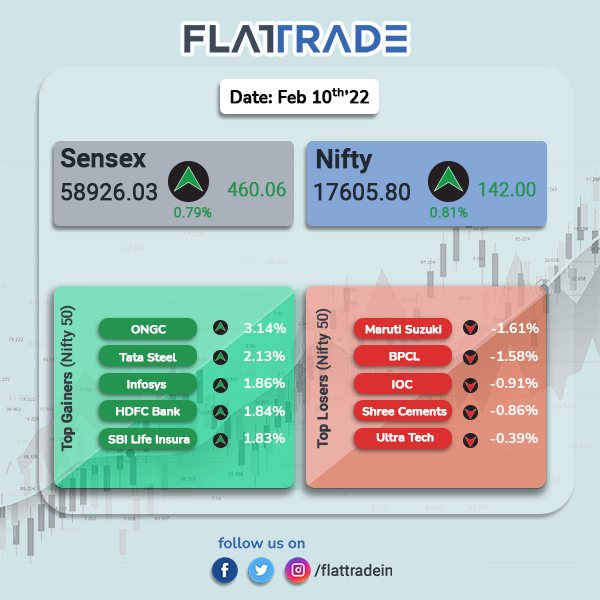 Reliance Industries Ltd (RIL): The energy conglomerate said that its subsidiary Reliance New Energy Ltd (RNEL) has entered into an agreement with Altigreen Propulsion Labs Pvt Ltd to acquire a stake in electric vehicle technology and solutions company for Rs 50.16 crore. The transaction is proposed to be completed before March 2022.
Hindalco Industries: The aluminium producer reported a 96% jump in consolidated net profit at Rs 3,675 crore for the quarter ending December 2021 as against a net profit of Rs 1,877 crore in Q3FY21. Consolidated revenue from operations rose 44% to Rs 50,272 crore from Rs 34,958 crore in the year-ago period.
The strong results were driven by a consistent performance by Novelis and an exceptional performance in the domestic market supported by favourable macros, strategic product mix and an improved performance by the downstream business.
Mahindra & Mahindra (M&M): The automobile and tractor company reported over two-fold increase in its standalone profit after tax (PAT) at Rs 1,353 crore in Q3FY22 as against a standalone PAT of Rs 530.86 crore in the year-ago period. Revenue from operations for the third quarter rose by 8 per cent to Rs 15,238.82 crore, as against Rs 14,056.54 crore in the year-ago period. The company sold about 1.18 lakh vehicles during the period under review, down 2 per cent from 1.21 lakh units in the third quarter of last fiscal.
Adani Wilmar: Shares of the company skyrocketed for the third day in a row to close 20% higher at Rs 386.25 apiece. Adani Wilmar broke into Rs 50,000-crore market cap club. Its issue price in its IPO was Rs 230 per share.
Airtel: The telecom operator announced a new video streaming service, Airtel Xstream Premium, that brings content from 15 popular video apps, with a single subscription at an introductory price of Rs 149 per month. Airtel is eyeing 2 crore new users for this paid offering, according to Adarsh Nair, CEO of Airtel Digital.
Tata Consultancy Services (TCS): The IT service company announced the launch of a new suite of offering for sustainability solutions consisting of TCS Clever Energy, Intelligent Power Plant (IP2) and TCS Envirozone on Microsoft's Azure IoT platform. These solutions will help organisations gain insights into energy usage, and reduce waste and emissions to accelerate towards their net-zero goals.
Bharat Forge: The company registered a net profit of Rs 421.19 crore in Q3FY22 on a consolidated basis, as against a net loss of Rs 209.20 crore in Q3FY21. Net sales jumped 38.97% to Rs 2,394.68 crore in Q3FY22 over the year-ago period. The company approved raising up to Rs 500 crore via bonds
Page Industries: The company reported a 13.6% rise in net profit to Rs 174.6 crore on a 28.3% jump in revenue from operations to Rs 1189.8 crore in Q3 FY22 over Q3 FY21. EBITDA stood at Rs 250.7 crore in Q3FY22, 10.9% higher than Rs 226.1 crore registered in the same period last year.
Persistent Systems: The company has announced the acquisition of New Jersey-based Data Glove for a consideration of $90.50 million. Persistent will make an upfront payment of $50.69 million to Data Glove and founders of the company will be eligible for a maximum earn out of $34.88 million over the next two years.
Dr Lal Pathlabs Ltd: The company's consolidated net profit was down 39% YoY at Rs 57.3 crore in Q3FY22. Revenue rose 10% at Rs 496.9 crore YoY and it total costs jumped 27% YoY to Rs 427.5 crore in the reported quarter.
Alembic Pharma: The company's consolidated net profit plunged 40% YoY to Rs 176.42 crore in Q3FY22. Revenue slipped 3.1% year-on-year to Rs 1,271.70 crore in the reported quarter. Ebitda was down 33% to Rs 269 crore in the third quarter of the current fiscal.
Mahindra Lifespace Developers: Shares of the company closed 19.72 per cent higher on Thursday after the company announced that it will purchase approximately 9.24 acres of land in Kandivali, Mumbai from Mahindra & Mahindra (M&M) for real estate development. The land purchase is for an aggregate consideration of Rs 365 crore and it will be paid in tranches.
ACC Ltd: The cement maker has emerged as the successful bidder for Kannur, Wadi Area, Limestone Block in Karnataka. ACC has secured estimated limestone resources in excess of 250 million tonnes, through this mining block.
Larsen & Toubro: The engineering company's hydrocarbon business secured two offshore projects from prestigious overseas client. The company classified it as a 'significant' contract, and the order value is expected to be between Rs 1,000 crore and Rs 2,500 crore. The order pertains to engineering, procurement, construction, installation and commissioning for the expansion of a marine terminal.
Adani Enterprises: The company has acquired 10% shareholding of Unyde Systems for Rs 3.75 crore. USPL is a start-up engaged in software development and information technology enabled services. The annual turnover of USPL for FY21 was Rs 86 lakhs.
MRF Ltd: The tyre maker's consolidated net profit fell 71.30% to Rs 149.39 crore on 6% increase in net sales to Rs 4,920.13 crore in Q3FY22 over Q3FY21. The board has declared a second interim dividend of Rs 3 per equity share for the financial year ending 31 March 2022.
Bombay Dyeing & Manufacturing Company: The company reported a net Loss of Rs 217.32 crore in the quarter ended December 2021 as against net loss of Rs 82.46 crore during the previous quarter ended December 2020. Sales rose 36.32% to Rs 526.50 crore in the quarter ended December 2021 as against Rs 386.22 crore during the previous quarter ended December 2020.
BEML: The company's consolidated net profit soared 183.73% to Rs 78.51 crore, while its net sales jumped 55.6% to Rs 1,133.09 crore in Q3FY22 over Q3FY21. It order book stood at Rs 10,778 crore at the beginning of Q3 FY22.
Sundram Fasteners: The company's net profit declined 16.82% to Rs 103.34 crore in the quarter ended December 2021 as against Rs 124.24 crore during the corresponding quarter last fiscal. Sales rose 8.71% to Rs 1024.25 crore in the reported quarter as against Rs 942.20 crore during the same quarter a year ago.