Benchmarks equity indices fell, tracking global peers, as the Federal Reserve's hawkish stance and indication of more rate hikes dampened investor sentiments. The Sensex fell 0.44% and the Nifty 50 index dropped 0.55%. The Sensex dropped 0.57% and the Nifty 50 index was down 0.5%.
Broader markets outperformed benchmark equity indices. The Nifty Midcap 100 index was up 0.34% and the BSE Smallcap gained 0.47%.
Top losers among Nifty sectoral indices were Private Bank [-1.42%], Bank [-1.39%], Financial services [-1.38%], PSU Bank [-0.89%] and Energy [-0.32%]. Top gainers were Media [1.85%], FMCG [1.3%], Auto [0.74%], Metal [0.41%] and Pharma [0.31%].
The Indian rupee plunged 88 paise to an all time low of 80.86 against the US dollar after the US Fed increased the country's key interest rate by 75 basis points for the third time in a row.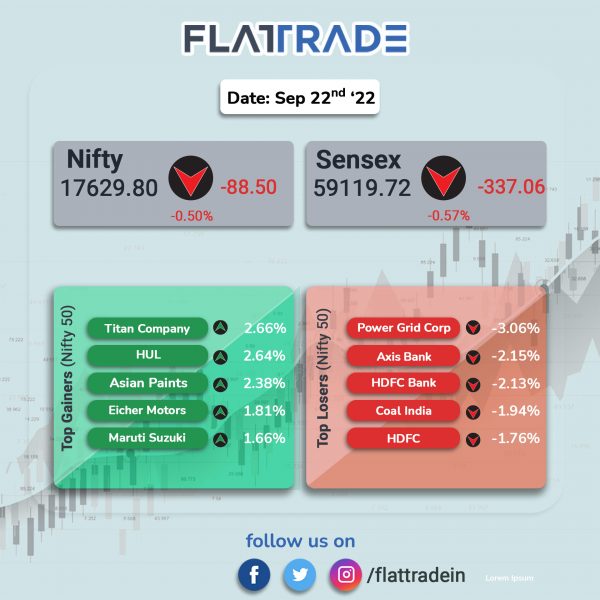 Telcom companies: The government released the draft Indian Telecommunication Bill, 2022, under which it has proposed a provision to waive off fees and penalty of telecom and internet service providers. According to the draft, the central government may, "waive in part or full any fee, including entry fees, license fees, registrations fees or any other fees or charges, interest, additional charges or penalty" for any licence holder or registered entity under the telecom rules.
Adani Group: Adani Ports' dollar bonds have dropped more than Indian peers on concern about the group's debt, and its notes due in August 2027 fell to an all-time low this week, Bloomberg news reported. Bonds of group companies including Adani Green Energy and Adani Transmission Step-One also mostly underperformed the broader Indian market, the report said. Adani Ports' seven dollar-denominated notes have lost about 14% on average so far this year, while Adani Transmission Step-One's notes due in 2036 and Adani Electricity Mumbai's 2030 securities have lost more than 17% each, the report added.
Hindustan Unilever Ltd (HUL): Brokerage firm Nomura has a 'buy' call on the company shares with a target price of Rs 2,975 apiece. Nomura cited that the company was able to drive volume growth higher than industry average despite sharp price hike and estimated 4-5% volume growth in the second quarter. Shares of the company closed 2.64% higher.
Fortis Healthcare: Shares of the company tanked 20% after the Supreme Court refused to lift the halt on IHH Healthcare's open offer for Fortis. IHH Healthcare had acquired a 31% controlling stake in Fortis in 2018 by paying $1.1 billion in a bidding process overseen by an independent board. This development led to an open offer to acquire another 26% of Fortis shares from the market. The open offer was not pursued as Daiichi had filed a plea against it.
In a separate news, the Supreme Court ordered six months jail term to brothers Malvinder Singh and Shivinder Singh in the Daiichi-Fortis case and ordered a forensic audit of the Fortis-IHH deal.
Welspun: Shares of the company rose 5.35% in intraday trading after the liquidator of ABG Shipyard declared Welspun as a successful bidder in terms of process memorandum for private sale of some assets belonging of ABG Shipyard under Insolvency and Bankruptcy Code. Welspun and its unit Nauyaan Shipyard paid Rs 659 crore towards entire purchase consideration.
The partially built obsolete ships and scrap acquired under Welspun is estimated to be over 1.5 lakh MT and the potential value from the acquisition would be unlocked within 12-15 months from completion of the purchase, according to its exchange filing.
Bharat Electronics: Brokerage firm Jefferies has a 'buy' call on the company shares with a target price of Rs 130. According to the brokerage house, the company has a positive outlook as the ongoing war in Ukraine has put indigenisation at the centre spot.
SpiceJet: The budget carrier has hiked the salary of its captains and senior first officers by around 20% from October 2022. This comes as the airline gets the first tranche of funds under the government's emergency credit line guarantee scheme. The airline is also expected to deposit TDS of all employees in the next two to three weeks.
Aurobindo Pharma: The company's US subsidiary Aurolife Pharma has received establishment inspection report (EIR) for its plant in Raleigh, North Carolina, mentioning the inspection a voluntary action initiate (VAI) from the US drug regulator. With this, the US FDA pre-approval inspection and GMP inspection are concluded.
Suzlon Energy: Shares of the company surged 12.3% on Thursday. The company said that it will decide terms and conditions of its proposed rights issue at a board meeting on September 25.
KPI Green Energy: Shares of the company rose 4.88% in intraday trading after the company bagged new order for executing Wind-Solar 'Hybrid Power Project of 5.4 MW capacity from Greenlab Diamonds in Surat.
Aptus Housing: Brokerage firm Citi initiated a 'buy' rating on the company shares with a target price of Rs 425 per equity share. The brokerage house said that the company operates in the niche affordable housing segment and has pricing power as well as efficient cost structure to deliver healthy return on assets.