Market Opening - An Overview
Nifty futures on the Singapore Exchange were trading 0.42% lower at 17,566, signalling that Dalal Street was headed for a negative start on Friday.
Asian stocks were trading lower as investors were worried that the aggressive monetary policy outlook would slow down the economy. Japan's Nikkei 225 index was down 0.58% and Topix lost 0.24%. Hang Seng dropped 0.71% and CSI 300 index fell 0.56%.
The Indian rupee plunged 88 paise to an all time low of 80.86 against the US dollar on Thursday.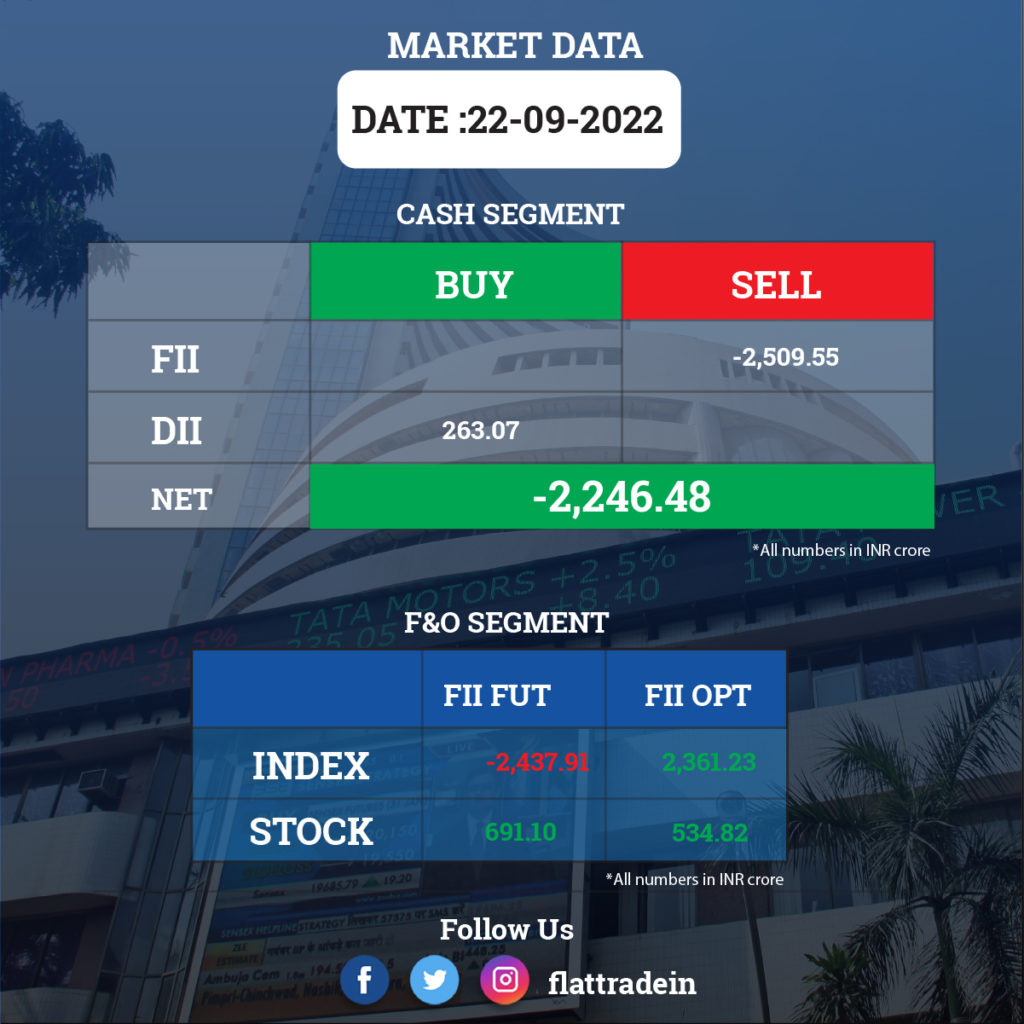 Reliance Industries Ltd (RIL): The conglomerate said it would invest $12 million for a 20% stake in solar technology developer Caelux Corp to produce more powerful and lower cost solar modules. RIL' wholly-owned subsidiary, Reliance New Energy (RNEL), and Caelux have also entered into a strategic partnership agreement for technical collaboration and commercialisation of latter's technology, Reliance said in an exchange filing.
Tata Steel: The company has approved amalgamation of seven metal companies of Tata group into Tata Steel. Theseven metal companies of Tata group that will be merged with Tata Steel are Tata Steel Long Products Limited, The Tinplate Company of India Limited, Tata Metaliks Limited, TRF Limited, The Indian Steel & Wire Products Limited, Tata Steel Mining Limited and S & T Mining Company Limited.
Airtel: Pastel Ltd, an entity of Singtel, has divested 1.59% stake in Bharti Airtel for Rs 7,261 crore at an average price of Rs 772.5 apiece through an open market transaction. The stake has been bought by Bharti Airtel's promoter Bharti Telecom, as per block deal data available with the National Stock Exchange (NSE).
Mahindra & Mahindra (M&M): The automobile company is in talks with global investors to raise between $250 million and $500 million to expedite its plans to build electric vehicles (EVs), Reuters news agency reported quoting source with direct knowledge of the matter.
ICICI Bank: The lender has launched special offers under a 'Festive Bonanza' scheme for several categories of loans including home loan, automobile loan, gold loan, two-wheeler loan, personal loans and tractor loans. For home loans, the bank is offering a 50 per cent discount on processing fees, balance transfer and loan against property. Borrowers can also avail car loans for up to 100% of the on-road price on new loans and up to 100% valuation on a used car loan for a tenure of up to 8 years.
Hero MotoCorp: The company has raised the prices of its motorcycles and scooters, with immediate effect. The upward price revision is to partially offset the impact of cost inflation and it will be up to Rs 1,000 across various models.
M&M Financial Services: The RBI has asked the company to stop outsourcing all recovery and repossession arrangements immediately, till further orders. The order came after a pregnant woman was mowed down by a recovery agent of the company in Jharkhand's Hazaribagh.
Cipla: The pharma company has received the Establishment Inspection Report (EIR) for its Indore plant, indicating closure of the inspection. The United States Food and Drug Administration (USFDA) conducted product-specific pre-approval inspection (PAI) at the Indore plant on June 27 and July 1.
Tata Consultancy Services (TCS): The IT services firm is making it compulsory for its employees to be back in office for three days a week. TCS advised employees to contact their managers immediately to "understand the arrangements made for the projects with regard to return to office."
Exide Industries: The company said the first phase of its 6Gwh lithium-ion battery plant in Karnataka will be ready in 27-30 months, and it has lined up Rs 3,800-4,000 crore investment to execute the project. The project, spread over 80 acres, will expand to become a 12-Gwh (Gigawatt hour) capacity integrated lithium-ion battery facility involving a total investment of Rs 6,000 crore, and it will take 8-10 years to reach its peak capacity.
Kirloskar Industries: The company announced the proposed divestment of its 17.41% stake in Swaraj Engines (SEL) to Mahindra & Mahindra (M&M). The divestment is proposed through inter-se transfer amongst the promoters through an off-market transaction, at a price of Rs 1,400 per share.
Zydus Lifesciences: The company has entered into share purchase, subscription and shareholder's agreement (SPSSA) to acquire up to 11.86% stake in AMP Energy Green Nine. With this, it will set up a captive wind-solar hybrid power project in Gujarat.
Shilpa Medicare: The company its exchange filing said that its analytical services division at Nacharam in Telangana has received Establishment Inspection Report from US Food and Drug Administration. The USFDA conducted an inspection from April 26 to April 29. The facility is identified as a testing laboratory in numerous ANDAs filed by Shilpa Medicare (parent organisation) and its agreed parties. The FDA clearance on the facility will enable the company to test and release batches into the US from this facility.
Century Textiles and Industries: The company's subsidiary, Birla Estates, has bought a 10-acre land parcel in Bengaluru and it expects a revenue potential of Rs 900 crore through the development of 1 million square feet.
Bombay Dyeing & Manufacturing Company: The company said the board of directors has given approval for raising funds up to Rs 940 crore through a rights issue.
Udaipur Cement Works: The company will raise Rs 350 crore by issuing non-convertible debentures on a private placement basis. The tentative date of allotment for 3,500 NCDs of the face value of Rs 10 lakh each is October 7 and the maturity will be on March 16, 2025, while the initial coupon rate is 7.45% per annum.
Future Enterprises: The debt-ridden company has received a three-month extension from the Registrar of Companies for holding its annual general meeting by December 31, according to its regulatory filing. The Registrar of Companies, Mumbai, through a letter dated September 21 has given its approval for the extension.
Aster DM Healthcare: The company's step-down subsidiary, Medcare Hospital, has acquired 60% stake in Dubai-based Skin III, for about Rs 36.74 crore. Skin III offers IV drips (vitamin and detox) and other aesthetics procedures.
UCO Bank: The Public sector lender became the first bank to receive RBI's approval to open a special vostro account with Gazprombank of Russia for trade settlement in Indian rupees
TVS Motor: Sundaram Auto Components, a wholly owned subsidiary, has sold its entire stake of 50.05% in Sundaram Holding USA, a material stepdown subsidiary, to holding company Sundaram Clayton for a consideration of Rs 317.01 crore.
Adani Enterprises: Adani Road Transport, a wholly owned subsidiary, has incorporated two units — Adani Road STPL and Adani Road GRICL — for promotion and development of road and other infra projects.
Somany Ceramics: The company has decided to sell its entire stake of 51% in subsidiary Amora Ceramics for a consideration of Rs 3.62 crore. The sale is expected to be completed within the next 30 days.