Benchmark indices ended higher after FMCG, metal and pharma stocks gained. The Sensex and the Nifty 50 indices touched fresh all-time highs of 62,887.40 and 18,678.10, respectively. For the day, the Sensex closed 0.28% higher at 62,681.84 and the Nifty 50 index advanced 0.30% to 18,618.
Broader markets underperformed compared to benchmark indices. The Nifty Midcap 100 index shed 0.45% and the BSE Smallcap index lost 0.29%.
Top gainers among Nifty sectoral indices were FMCG [1.87%], Metal [1.03%], Pharma [0.72%] and Energy [0.30%]. Top losers were Realty [-0.34%], Auto [-0.22%] and Oil & Gas [-0.13%].
Indian rupee fell 5 paise to 81.72 against the US dollar on Tuesday.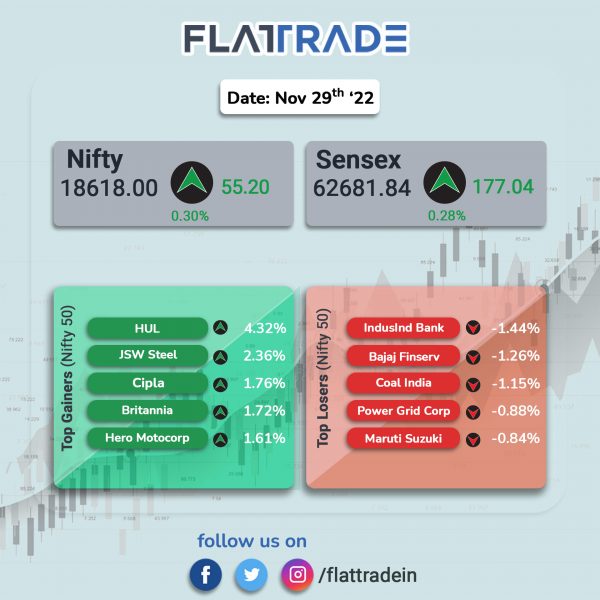 State Bank of India (SBI): The largest lender in India has approved raising Rs 10,000 crore through infrastructure bonds during the financial year 2023, according to its exchange filing. "Raising Infrastructure Bonds up to an amount of Rs. 10,000 crores (including a green shoe option of Rs. 5,000 crores) through a public issue or private placement, during FY23," the release said. SBI's Chairman Dinesh Kumar Khara last week said that the lender is expected to maintain its asset quality even though loan growth is higher.
New Delhi Televison (NDTV): The company's promoter group, RRPR Holding is now controlled by Adani Group-owned Vishvapradhan Commercial Pvt. Ltd. According to an exchange filing by NDTV, RRPR Holding issued equity shares constituting 99.5% of its equity share capital to Vishvapradhan Commercial. In a separate exchange filing, Adani Enterprises Ltd. said that VCPL has received a letter from RRPR Holding confirming issue of equity shares constituting 99.5% stake.
Gland Pharma: Shares of the company rose over 9% after Livemint reported that Shanghai Fosun Pharmaceutical is considering a stake sale in Gland Pharma. Fosun Pharma had acquired a 74% stake in Gland for about Rs 8,990 crore in 2017 from an investor group including KKR & Co. However, Gland Pharma said that it is not aware of any such information and was not in receipt of any communication in this regard from its promoters – Fosun Pharma or Fosun International, according to its exchange filing.
Tata Motors and IndusInd Bank: Both the companies have joined hands to offer electric vehicle (EV) dealer financing solutions to the automakers' passenger EV dealers, according to the lender's exchange filing. IndusInd Bank will provide additional inventory funding and 'attractive' pricing to authorised EV dealers of Tata Motors. This additional inventory funding would be over and above the ICE finance limit of the dealers. The repayment tenure will range from 60 days to 75 days. The lender will also offer additional limit to cater to high demand phases, available to dealers twice a year.
Zydus Lifesciences: The company announced the purchase of Watson Pharma's active pharmaceutical ingredients business. Further, the company said it has appointment two new independent directors, Akhil Monappa and Upasana Kamineni Konidela for the first term of five consecutive years.
Britannia Industries: The food processing company has entered into a joint venture with France's Bel Group. Both the companies will make and market cheese products in India and other countries via Britannia Dairy, a joint venture. Britannia will sell 49% of its equity stake in the dairy unit to Bel for Rs 262 crore. Meanwhile, 51% equity in Britannia Dairy will continue to be held by Britannia.
Lupin: Shares of the company gained over 2% after they announced the launch of their new inhalation solution, Formoterol Fumarate, according to its regulatory exchange filing. The inhalation solution is estimated to have annual sales of 2,189 crore in the US, according to IQVIA MAT September 2022 data.
Hindustan Aeronautics Ltd (HAL): The PSU has given additional charge of chairman and managing director to C B Ananthakrishnan, the director (finance) of the company, for a period of three months w.e.f November 1 or till a new incumbent is selected for the post.
Blue Star: The company has incorporated a subsidiary in Netherlands, Europe and it is yet to commence its business operations. It will be engaged in the business of sale and service of air conditioning, heating and refrigeration equipment. The share capital of Blue Star Europe B.V. consists of 1,00,000 shares with nominal value of EUR 10 each aggregating to EUR 10,00,000.
Rashtriya Chemicals & Fertilizers: The company said that its board has approved an interim dividend of Rs 1.60 per equity share for the financial year 2023. The company has fixed Friday, 16 December 2022, as the record date for the purpose of the eligibility of shareholders. Rashtriya Chemicals & Fertilizers (RCF) is engaged in the manufacturing and marketing of fertilizers and industrial chemicals.
RattanIndia Enterprises (REL): The company announced that its wholly owned subsidiary, Neotec Insurance Brokers has received insurance direct broker licence from IRDAI for life and general insurance. This licence will help the company to start the business of sales of life and general insurance products though digital channels on its fintech marketplace platform BankSe. The company said that it will deliver data driven digital insurance products at grassroot level on its fintech platform BankSe.