Market Opening - An Overview
Nifty futures on the Singapore Exchange were trading 0.31% lower at 18,671.50, indicating a negative start for Dalal Street.
Japanese markets were trading lower after Federal Reserve officials said that more rate hikes are in the offing. Japan's Nikkei 225 index fell 0.53% and the Topix index was down 0.56%. Chinese markets were trading higher as heavy police presence deterred Covid protests in China. The Hang Seng index jumped 3.22% and the CSI 300 index was up 1.86%.
Indian rupee strengthened to 81.67 against the Us dollar on Monday.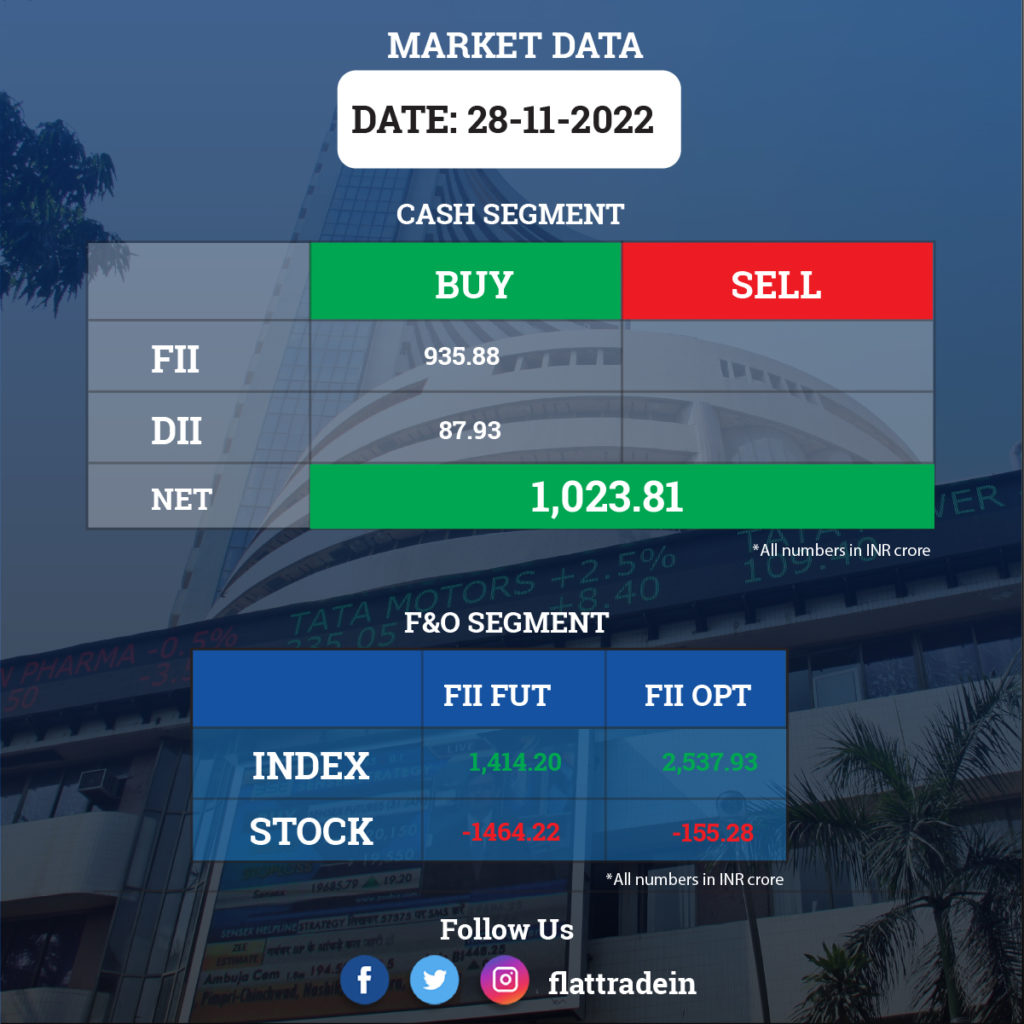 Tata Consultancy Services (TCS): The IT major has launched the Quantum Computing Lab on Amazon Web Services to help enterprises explore, develop, and test and accelerate the adoption of quantum computing.
NBCC (India) Ltd: The state-owned construction firm said it has got work orders worth Rs 271.62 crore in projects of erstwhile realty firm Amrapali Group. In a regulatory filing, the company informed that it has got an order of Rs 42.44 crore for construction of balance works /left out works of Amrapali corporate Hub at IMT Manesar, Gurugram in Haryana. NBCC got an another order of Rs 229.18 crore for "special repair and up-gradation works of civil, electrical, mechanical and plumbing along with all allied works required due to lack of comprehensive maintenance of Amrapali Projects at Noida & Greater Noida".
BSE Ltd: The company said that the Securities and Exchange Board of India (Sebi) has approved the appointment of Sundararaman Ramamurthy as the Managing Director & Chief Executive Officer of the firm. "His appointment is subject to acceptance of the offer made to him and fulfillment of terms and conditions including approval from the Shareholders of BSE," said the exchange in a filing. Ramamurthy is currently the Chief Operating Officer-India at Bank of America.
Kotak Mahindra Bank: The lender's arm is planning to raise up to Rs 1 billion to invest in its data centre business. Kotak Alternate Assets, a division of Kotak Investment Advisors (KIAL), announced the appointment of Subhamkar Das as the chief operating officer for the Kotak Data Centre Funds platform, according to an official statement.
New Delhi Television (NDTV): The company's promoter firm RRPR Holding said on Monday that it had transferred shares constituting 99.5% of its equity capital to Adani group-owned Vishvapradhan Commercial (VCPL). The transaction was done on Monday, RRPR Holding said in a disclosure to the stock exchanges. The transfer of shares will give the Adani group control over a 29.18% stake in NDTV. The port-to-power conglomerate is also conducting an open offer for another 26% stake in the media firm. The open offer, which began on November 22, has seen shareholders tender 5.3 million shares, or 31.78% of the issue size of 16.7 million shares, so far, the exchange data showed.
Lupin: The company's Brazilian subsidiary, MedQuimica has signed a definitive agreement to acquire all rights to nine medicines from BL Indústria Otica, a subsidiary of Bausch Health Companies. MedQuimica will acquire rights to nine products including Limbitrol, Melleril and Dalmadorm for Central Nervous System related conditions, Bacrocin, Glyquin, Solaquin, Oxipelle and Efurix as topical oncological treatments, and Cuprimine for the treatment of Wilson's disease.
Filatex Fashions: The Hyderabad based manufacturer is planning a capex of Rs 300 crore over the next 18 months towards installation of another 500 machines to meet the growing demand for its products. It is in the process of acquiring 100 units of Cut and Sew machines for manufacturing of T-shirts and Tracks, Yarn dyeing plant and covering plants. This capex will generate additional Rs 400 crore revenues for the company and provide employment to 1000 workers.
Five Star Business Finance: The company posted 22% QoQ growth in its PAT to Rs 144 crore while its disbursements jumped 127% QoQ to Rs 803 crore. The AUM for the company stood at Rs 5,732 crore, up 24% YoY. The net interest margin came in at 17.6% with ROA and ROE of 8.7% and 14.7%, respectively. The company had a network of 352 branches as on September 30, 2022.
Arvind Smartspaces: The company has launched Arvind Greatlands, a plotted development, located at Devenahalli, Bangalore – sold an area of more than 0.57 msf amounting to a booking value of over Rs. 200 Crore. This project marked ASL's entry into the plotted development segment in Bengaluru.
Mankind Pharma: The company said it has acquired a majority stake in Upakarma Ayurveda, engaged in developing, manufacturing and selling ayurvedic and herbal products for an undisclosed amount. The company's decision to invest will empower Upakarma Ayurveda to develop a wider range of products and offerings, the drug firm said in a statement.
Jet Airways: The company's creditors and its new owners are deadlocked over a resolution plan to lift the Indian airline out of bankruptcy, putting its future in limbo, four sources said. Creditors may approach India's aviation ministry to seek approval to liquidate Jet's assets if there is no resolution on Tuesday in a critical court hearing, a senior banker said.
Can Fin Homes: The housing finance company declared an interim dividend of Rs 1.50 per equity share of Rs 2 each. The company has fixed December 9, 2022 as the record date for the payment of this interim dividend and the dividend will be paid to the eligible shareholders by December 26, 2022.
Dredging Corporation of India: The state-owned dredging player plans to foray into the foreign dredging market. The initiatives taken by the company to set foot once again in foreign waters is likely to materialise. DCI has already been executing the dredging contract for Mongla Port, Bangladesh.