Market Opening - An Overview
Nifty futures on the Singapore Exchange were trading 0.17% lower at 18,456, signalling that Dalal Street was headed for a negative start on Tuesday.
Japanese stock market was trading higher ahead of the Bank of Japan's policy decision later Tuesday. The Nikkei 225 index was up 0.29% and the Topix index was 0.40% higher. Meanwhile, Chinese stock market was trading lower with the CSI 300 index falling 0.96% and the Hang Seng declining 0.45%.
Indian rupee gained 17 paise to 82.71 against the US dollar on Monday.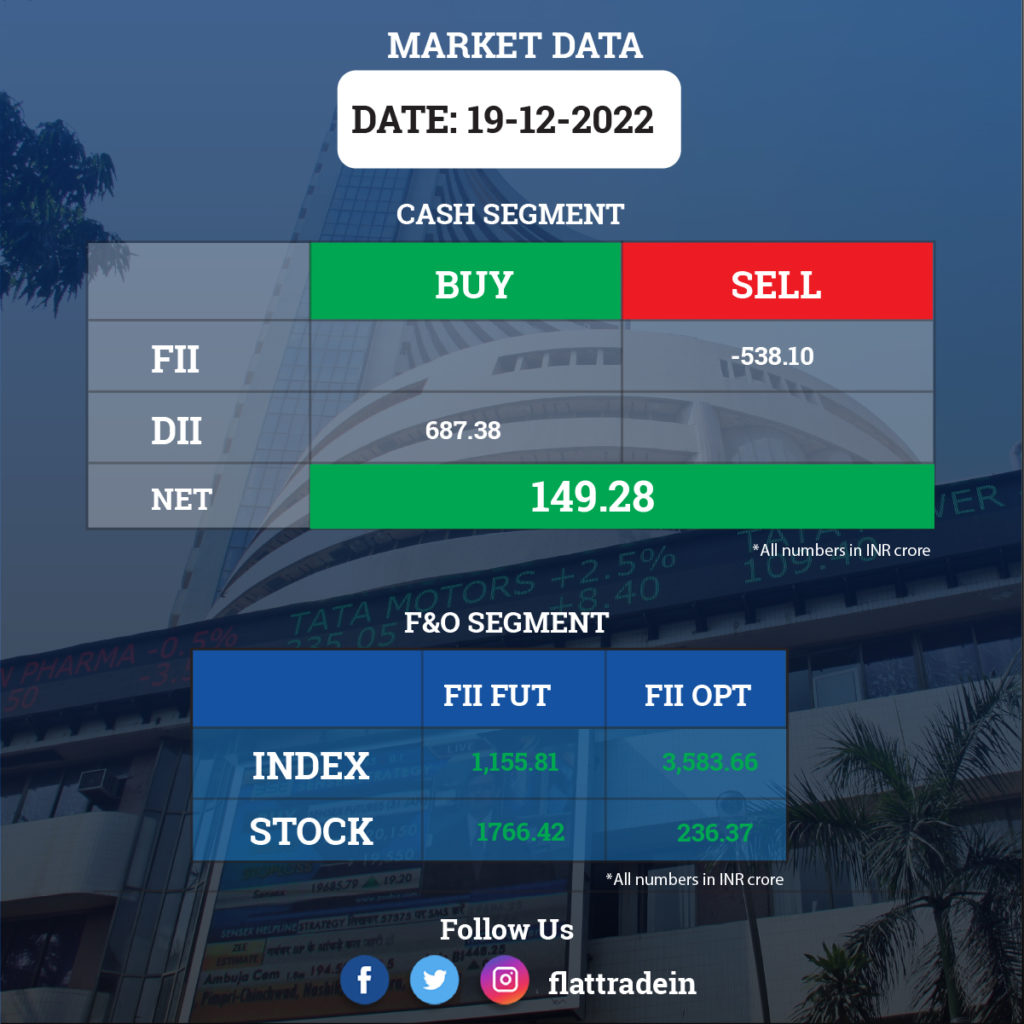 Dabur India: The promoters of FMCG major are expected to sell shares worth about Rs 800 crore via a block deal on December 20, CNBC Awaaz reported citing sources.The promoters are considering to sell the stake at up to 4% discount as against the market price, the sources added. Goldman Sachs will be the broker for the block deal. The company's shares, at the end of market hours on December 19, stood at Rs 587.15 apiece on the BSE.
HDFC Bank: The private sector lender is considering to tap the overseas credit market once again after a 14-month gap for a loan of $1 billion, according to a Bloomberg report. The tenor will reportedly range from 1-5 years. The bank will reportedly take the offshore route next month sensing an increase in credit demand.
Just Dial: Promoter Reliance Retail Ventures plans to sell 2% stake in the internet and retail firm through the open market by the end of this month in order to comply with regulatory requirements to meet the regulatory norms of maximum 75% of the holding. Reliance Retail held 66.40% stake as of September 30.
Housing Development Finance Corporation (HDFC): HDFC increased its retail prime lending rate on housing loans by 35 basis points, with effect from December 20. Its adjustable rate home loans (ARHL) are benchmarked on retail prime lending rate.
IRB Infrastructure Developers: The construction company announced that its company board is scheduled to meet on January 4 to consider the proposal of sub-division of equity shares having a face value of Rs 10 each.
Hindustan Zinc: The company is planning to invest over $1 billion ( about Rs 8,270 crore) to convert its diesel-fired mining vehicles into battery-operated ones and also to fully turn a green energy user, over the next five years.
Ramco Systems: The company's board is scheduled to meet on December 22 to consider and approve a proposal for raising of funds by way of issue of equity shares and / or Warrants convertible into equity shares.
NBCC India: The company has received contract for the construction of a new multi-storied quarter complex from Odisha Power Transmission Corporation. The company will construct 100 numbers of quarters by demolishing the existing 224 numbers quarters at Bhoinager, Bhubaneswar. The order value is Rs 69.3 crore.
IRCTC: Life Insurance Corporation of India has bought an additional 2.27% stake in IRCTC between October 17 and December 16 this year via open market transactions. With this, LIC's shareholding in IRCTC increased to 7.278%, from 5.005% earlier.
Ipca Laboratories: The company has acquired an additional 6.53% stake in Trophic Wellness (TWPL). TWPL is engaged in manufacturing and marketing several SKUs of neutraceuticals under the brand name Nutricharge. With the above shares, the company now holds 58.88% shareholding in TWPL.
Dhanuka Agritech: The company said its buyback offer for shares worth Rs 85 crore will open on December 26 and close on January 6, 2023. The company has proposed to buy back 10 lakh shares of face value of Rs 2 each at Rs 850 per share for an aggregate amount of Rs 85 crore through a tender offer process.
Sterling and Wilson Renewable Energy: Promoters Shapoorji Pallonji and Co and Khurshed Yazdi Daruvala plan to together sell 3.57% stake in the through an offer for sale on Tuesday and Wednesday. Shapoorji Pallonji proposes to sell 47,33,515 shares or 2.5% stake, and Daruvala will offer 20,28,649 shares or 1.1% in the company. The floor price for the sale of shares is Rs 270, a nearly 5% discount to the current market price.
PTC India: The power trading company said it has entered into an agreement with Bhutan's electricity utility firm Druk Green Power Corporation Limited to supply 600 MW power to the neighbouring country during the winter season.
Hinduja Global: The company's board has approved a share buyback worth Rs 1,020 crore. Accordingly, the company will be buying back 60 lakh equity shares at a maximum price of Rs 1,700 per share through the 'tender offer' route.
Vikas Lifecare: Material subsidiary Genesis Gas Solutions has received the technical advisory contract from Dornier Group GmbH. Genesis will provide technical advisory for the optimisation of battery storage systems for distribution grid applications for Dornier Group's ongoing project in Mali, Africa.