Benchmark equity indices pared gains in the last hour of the session and closed flat as gains in information technology and realty stocks were offset by losses in healthcare and realty stocks. The Sensex inched up 0.06% and the Nifty was up 0.03%.
The Nifty Midcap 100 edged up 0.1% and BSE SmallCap fell 0.32%.
Top gainers among Nifty sector indices were IT [2.07%], Metal [0.62%] and Auto [0.42%]. Top losers were Realty [-1.62%], Pharma [-0.77%], PSU Bank [-0.71%].
Indian Rupee rose 15 paise to 76.25 against the US Dollar on Thursday.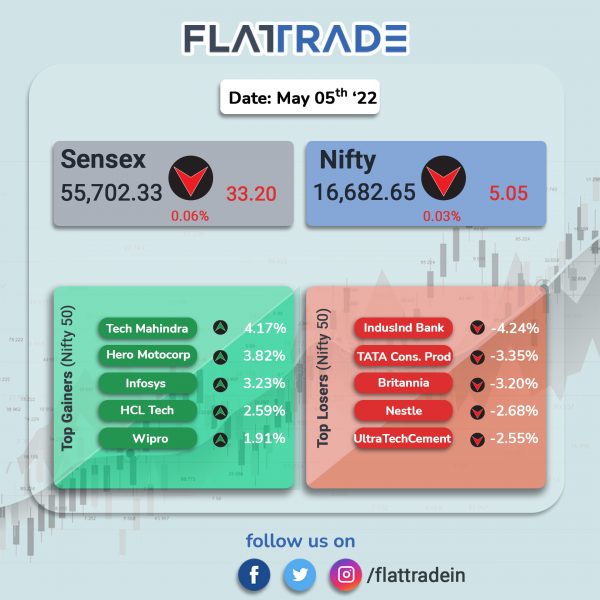 State Bank of India (SBI): The largest lender in India plans to raise long term funds up to $2 billion from international markets in the current financial year 2023. The executive committee of the Bank's central board will meet on May 10 to examine the status and decide on long term fund raising in single/multiple tranches, the bank informed BSE.
Dabur: The company's consolidated revenue rose 8% YoY to Rs 2517.8 crore in Q4FY22, compared with Rs 2,336.8 crore in the year-ago period. Its net profit fell 22% to Rs 294.22 crore from Rs 377.82 crore. EBITDA was up 2% to Rs 453.57 crore in the reported quarter, from Rs 444.93 crore in the same quarter last fiscal.
ICICI Bank, Bank Of Baroda (BoB): ICICI Bank's external benchmark linked lending rate hiked to 8.1% per annum, with effect from May 4. Bank of Baroda's external benchmark linked lending rate hiked to 6.9% per annum, with effect from May 5.
Tata Power: The company's subsidiary, Tata Power Solar Systems, has won India's largest single solar EPC order of 1 Giga Watt for approximately Rs 5,500 crore from SJVN. The order will be completed with 24 months and will aim to reduce 22.87 lakh kg of carbon emission over 5,000+ acres of land in Rajasthan.
Central Bank of India: The state-owned commercial bank plans to shut 13% of its branches to improve its financial health, which has been under pressure for several years, according to sources and a document seen by Reuters. The bank is looking to reduce the number of branches by 600 by either shutting down or merging loss-making branches by the end of March 2023.
Larsen & Toubro Ltd: The construction and engineering company in an exchange filing said that it has won a 'large' contract in the Mumbai-Ahmedabad High-Speed Rail Project (Bullet Train Project). L&T Construction's railways division has secured a·contract from the National High-Speed Rail Corporation Ltd. to construct 116 kilometers of high-speed ballastless trackwork on the route.
Firstsource Solutions: The company's Q4FY22 revenue rose to Rs 1,523.88 crore from Rs 1,449.63 crore in the corresponding period lsat fiscal. Net income jumped to Rs 132.39 crore in Q4FY22, compared with Rs 46.68 crore in the year-ago period. EBIT climbed to Rs 175 crore in Q4FY22, as against Rs 69.07 crore in Q4FY21.
Reliance Infrastructure Ltd: Supreme Court has dismissed a petition by Reliance Infrastructure Ltd.'s unit seeking a higher rate of interest on arbitration award dues from Delhi Metro Rail Corp., Bloomberg reported. The Apex Court upheld the Delhi High Court's order that refused Reliance Infrastructure's request for 2% additional interest rate over and above the central bank-set prime lending rate.
Morepen Laboratories: The drug firm said that its consolidated net profit declined by 55 per cent to Rs 12 crore for the fourth quarter ended March 2022, compared with a net profit of Rs 27 crore in the year-ago period. Total income increased to Rs 371 crore for the period under review as against Rs 291 crore in the same period lst fiscal.
Equitas Small Finance Bank Ltd: The lender has appointed Murali Vaidyanathan and Rohit Phadke as executive directors of the bank. The appointment will be effective from the date of approval of proposal by RBI and shall be for a period of three years or for such term as approved by RBI.
Time Technoplast: The company's shares surged after the company announced that it signed a MoU with Tesla Power USA for orders worth Rs 100 crore. The order pertains to the supply of VRLA Batteries of different sizes for applications covering power, solar, UPS, etc. The supply will be for both India and overseas markets.