Benchmark stock indices fell over 1% on weak global sentiments among investors. Metal, Energy, IT and pharms stocks were the biggest losers. Investors sold stocks across all sectors. The Sensex fell 1.08% and the Nifty 50 tanked 1.27%.
Broader markets loss were steeper than headline indices. The Nifty Midcap 100 tanked 1.92% and BSE SmallCap slumped 1.88%.
Top losers among Nifty sector indices were Realty [-3.76%], Metal [-2.85%], Energy [-2.5%], IT [-2.11%] and Pharma [-2.01%]. Nifty Bank inched up 0.1%.
Indian rupee depreciated by 21 paise to 76.69 against the US dollar on Monday.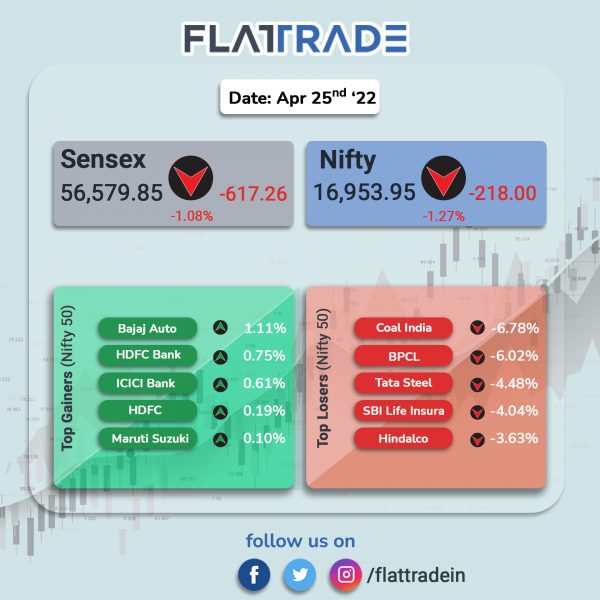 Ambuja Cements and ACC: Shares of Ambuja Cements rose over 3.6% in intra-day trading and ACC gained 2.5%. The rise comes amid reports that Aditya Birla Group discussed financial options to prepare a bid for Holcim's India cement assets. Holcim owns 63.19% in Ambuja and 4.48% in ACC. Ambuja owns 50.05% in ACC.
Cyient: The IT company will acquire global plant and product engineering services company Citec for about Rs 800 crore to strengthen its business offerings. The transaction is expected to be completed during the quarter. The acquisition will strengthen its presence in the energy industry with a focus on clean energy and expand its European footprint in the Nordic countries, Germany and France, according to Cyient.
Bharat Petroleum Corporation Limited (BPCL): Shares of the company lost 6 per cent on reports that the Indian government may revisit the company's privatisation plan, including revision of the terms of sale. The transition towards green and renewable fuel has made privatisation difficult in existing terms, PTI news reported quoting government officials.
Tata Consultancy Services (TCS): The IT major is expanding its strategic partnership with SBI Cards and Payments Services Ltd., India's largest pure-play credit card issuer, to power the latter's next leg of digital transformation. TCS will further digitize and transform the online onboarding processes to enable faster turnaround and frictionless experience.
Century Textiles & Industries: Shares of the company rose 4.74% during the trading session, after it reported a consolidated net profit of 86.07 crore in Q4 compared to loss of Rs 8.41 crore YoY. Revenue rose to Rs 1,210.7 crore in the sai quarter as against Rs 839.39 crore in the same period last fiscal. Ebitda stood at Rs 125.38 crore compared with Rs 75.2 crore in the year-ago period. The company recommended a dividend of Rs 4 per equity share of face value Rs 10 apiece.
Religare Enterprises: Shares of the company rose over 15%, after the company informed the exchanges that it has resolved all legacy issues with SEBI pertaining to compliance requirements.